Out Of Steppe and Mongolian Tyres documentaries - ONLINE NOW!
Date published

19.02.2016
Trough Stephen Roe's lens, a heterogeneous crew addresses the contrast of skateboarding from the infinite steppes to forgotten Mongolian towns, and incidentally discovers an urban blooming scene riding the saddle of a galloping Globalization.
The History:
Back in 2004, a phalanx of skateboarders decided to go skate a giant skatepark they had seen a photo of, in the heart of Ulaanbaatar, Mongolia. Once they reached, only to discover that the structure had been razed three weeks prior, the real adventure began.
The resulting book (Dirt Ollies) and film (Mongolian Tyres)* depicted the trip—an epic rendition of two worlds colliding, and of a country about to go through a drastic change.
Ten years later, Mongolia has become one the quickest growing countries in the world, thanks to its underground treasures (coal, copper, rare metals, uranium, etc.), both blessing and curses with tales of anarchic growth a nd profound society changes.
From the dirt roads of 2004 to the construction sites' dust of 2014, this decade of (r)evolution fully deserved a new book and a film. We decided to use what we knew, skateboarding, to monitor the transformation from a vernacular angle. And so, ten years later, bags were packed again for an heteroclitic crew of skateboarders, photographers, writers, architects. Mongolia, here we went again...
Out Of Steppe:
Directed, filmed and edited by Stephen Roe
Skateboarders: Joseph Biais, Jerome Campbell, Igor Fardin, Yoshihiro "Deshi" Omoto, Sylvain Tognelli, Phil Zwijsen
Original soundtrack: Joel Curtis, Samuel Jones
About Stephen Roe:
Still very much a current professional skateboarder (for a company called Heroin Skateboards) having reached cult status through his amazing video parts and lankyframed antics, Stephen "Rogie" Roe is a filmmaker and photographer based in London. After graduating from the Manchester school of Art, he won the Royal Television Society Student award, an achievment that has since propelled this extermely seasoned traveller to shooting documentary and commercial films worldwide.
List of screenings:
1 BERLIN (GE), 2 ANNECY (FR), 3 MUNICH (DE), 4 VIENNA (AT), 5 NYC (USA), 6 ANCONA (IT), 7 MARSEILLE (FR), 8 MADRID (ES), 9 LONDON (UK), 10 KINGERSHEIM (FR), 11 MONTPELLIER GRANIT (FR), 12 LONDON (UK), 13 BRISTOL (UK), 14 SEOUL (KR), 15 PARIS (FR), 16 TOKYO (JP), 17 LOS ANGELES (US) and 18 SAN FRANCISCO (US)
About the book "From Dirt to Dust":
Ten years after, skateboarders, photographers and an architect return to Mongolia to marvel at its landscapes, cities, and drainage ditches. With skateboarding as an uncanny reading grid, the disorientated transplants experienced the creeping westernization of a once powerful Empire.
From Dirt to Dust is published by 19/80 Éditions and Carhartt WIP.
Text: Sébastien Carayol (France)
Photography: Percy Dean (UK), Cyrille Weiner (France)
Additional Text: Nicola Delon
Featured Skateboarders: Carhartt WIP teamriders Phil Zwijsen (Belgium), Sylvain Tognelli (France), Igor Fardin (Switzerland), Yoshihiro "Deshi" Omoto (Japan), Jerome Campbell (UK), Joseph Biais (France)
Design and layout: Jad Hussein
Hardcover
English
2.000 copies
225 × 280 mm
192 pages + cover 4-color printing on Lessebo smooth bright 110g.
DVD included
39 euros
Available in Carhartt WIP stores, selected retailers and online.
Gallery #8174
Mongolian Tyres:
Full length documentary shot on 16 & 8 mm such as DV and directed by Henrik Edelbo.
Skateboarders: Pontus Alv, Scott Bourne, Quentin de Briey, Tom Derichs, Julian Dykmans, Vincent Gootzen, Geoffrey van Hove, Hugo Liard, Chris Pfanner, Kenny Reed, Muki Rüstig.
About the book Dirt Ollies:
The 200 page photobook takes you on a visual journey to the heart of asia. In July 2004 a group of 17 dedicated skateboarders go on a one month adventure to Ulaanbataar, the capitol of Mongolia. The goal, a giant skateboardpark in the middle of nowhere. After 8 months of planning and just three weeks before departure the big shock, the park gets torn down except for one quarterpipe. Nevertheless the group heads out far east to find out about Mongolian Skateboard culture, here is where the adventure begins…
Released through Verlag für Bildschöne Bücher, Berlin
Photobook with Documentary Film on DVD
208 pages
Color and b/w photography, hardcover
English, German, French, Spanish
35,00 €
ISBN 978-3-939181-04-0
Bildschöne-Bücher
25books
Photography:
Pontus Alv (Sweden)
Alexander Basile (Germany)
Bertrand Trichet (France)
Additional Photography:
Quentin de Briey (Spain)
Henrik Edelbo (Denmark)
Johannes Hempel (Germany)
Diary by:
Scott Hobbs Bourne (USA/ France)
Illustrations by:
Stefan Narancic (Sweden)
Available in Carhartt WIP stores, selected retailers and online.
Gallery #7765
Products:
S/S "From Dirt to Dust" T-Shirt - Black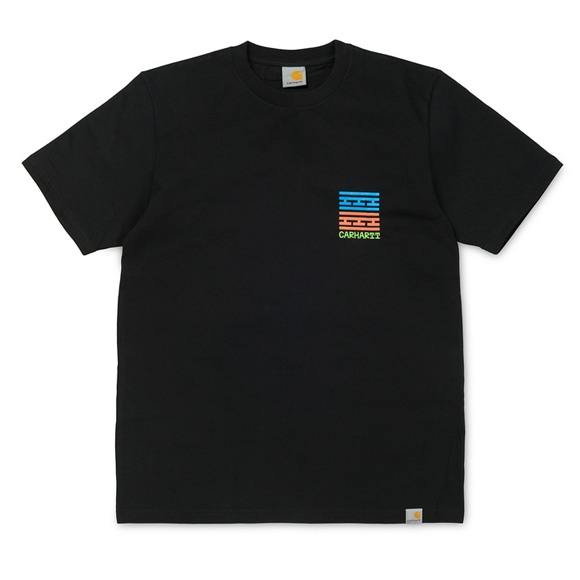 S/S "Out of Steppe" T-Shirt - White
S/S "Out of Steppe" T-Shirt - Grey Heather
From Dirt To Dust Carhartt WIP Board - Wood
Out Of Steppe Carhartt WIP Cruiser - Wood
From Dirt To Dust 85A Wheels (4 Pack) - White
2004-2014 Mongolia books - Multicolor
From Dirt to Dust - Multicolor
(Bastian Loewen)