Fall/Winter 2015 Global Campaign
Date published

09.12.2015
However bold the line some draw between art and advertising, Carhartt WIP has always liked to blur it. For this season's campaign, carte blanche has – once again – been given to Irish-born photographer Joshua Gordon and British artist Tim Head. On the ocassion of its launch we've talked to Tim about his 'lofi analogue' approach and DIY influences, looked back at the last campaign and on buying Carhartt beanies at Natterjacks in the ninenties...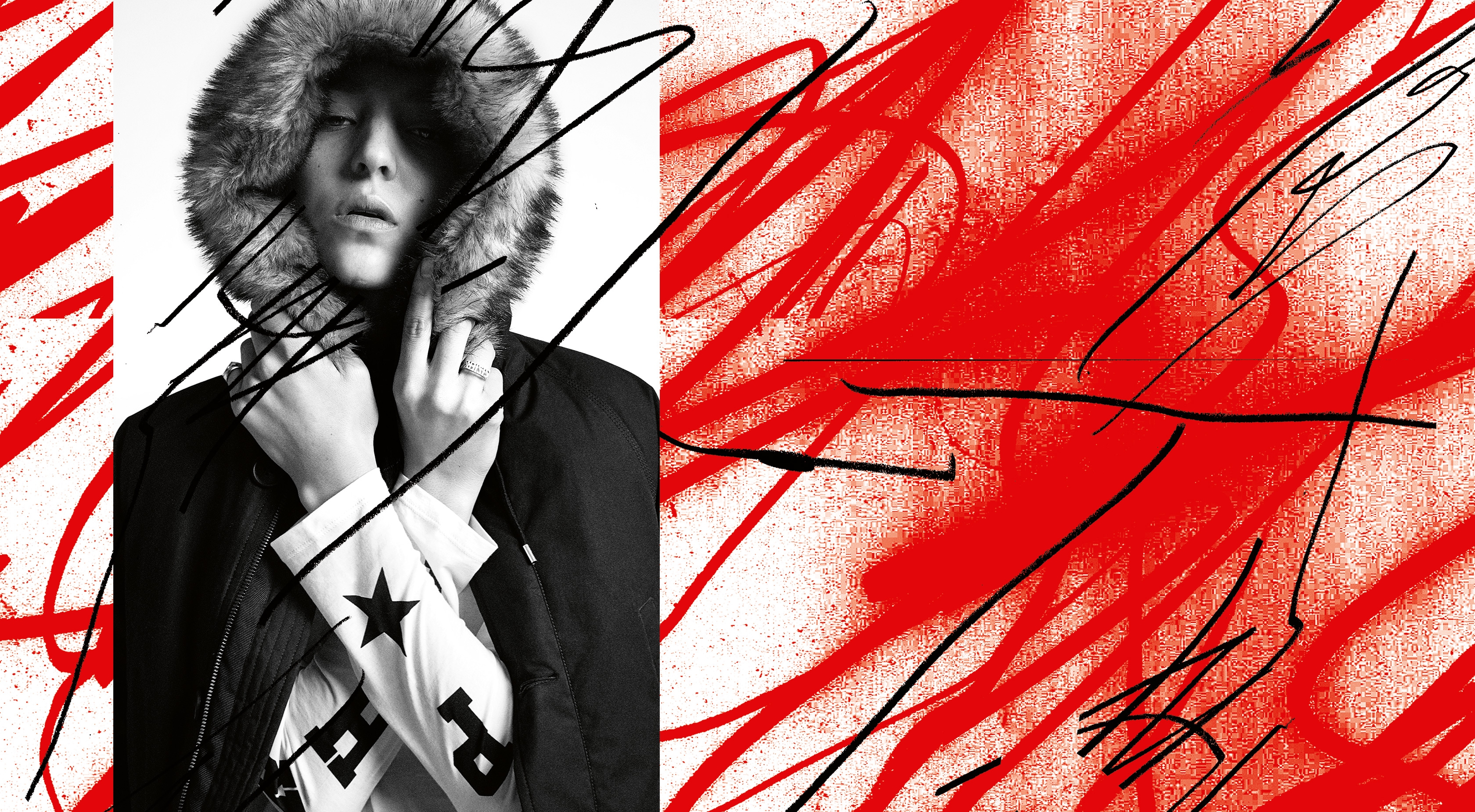 Remembering the grimey campaign that you and Joshua created for the Spring/Summer season, we are stoked to see the result of you guys re-teaming up. Comparing the two series of images, your graphic treatment appears more raw and radical this time, with streaks and scribbles extending into Joshua's photos...
I was really happy with the first campaign, but to keep things interesting both for myself and the audience, I wanted to create this one in a completely different way to the first – while keeping both visually connected. If I described the first campaign as 'lofi digital' (it was created using beaten up scanners and photocopiers), then I'd call the second 'lofi analogue'. I used nothing but rough handmade elements: pencil, charcoal, biro, acrylic paint and an old fax machine.
The campaign is based on a simple, self-imposed brief. – That each image was to have raw power and energy... So I'm really excited that you pick up on the word raw as that's exactly what I was aiming for. For me Carhartt WIP is raw. Carhartt's no bullshit, it's cool as fuck and its tough... it's raw... and that is what I tried to express visually in the campaign.
Carhartt's no bullshit, it's cool as fuck and its tough... it's raw... and that is what I tried to express visually in the campaign.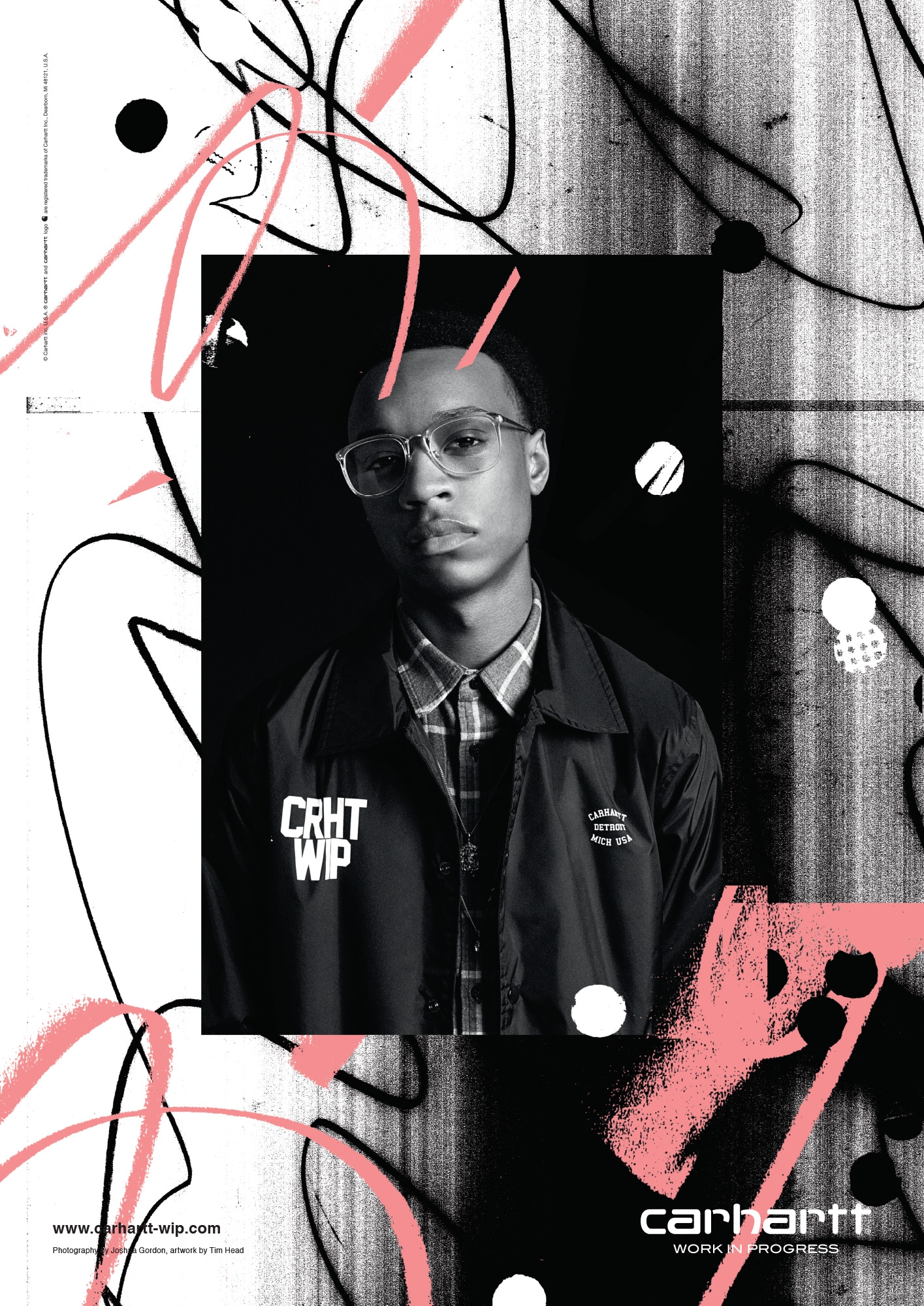 As it was the second Carhartt WIP campaign that Joshua and I have worked on together, there was also some sort of natural progression. Not only did I now know a bit more about the Carhartt team and their likes and dislikes, but more importantly, having seen the first campaign rolled out, I had an idea of how these images would be seen. Knowing they could be seen on a South Korean billboard, advert in Dazed or I-d, as a poster pasted up on a NY wall or as a rug in a Munich Carhartt WIP store I wanted each design to have a certain impact. I also consciously tried to make things much bolder and as a series, more unified.
Looks as if you have become bolder in the double sense of the word...
Carhartt WIP was a dream client as they were always pushing me to go further than I was expecting. That is such a cool thing to experience. They really encouraged me to be myself and push it. While I can always be trusted to bring in my own style that some people see as fucked up, it is rather rare to actually be allowed to do that. I remember when I presented some early ideas and the initial feedback was 'we like it, but can you fuck it up more?' From that moment I knew it was going to be fun time working on this.
Did the "fuck it up more" also refer to the balance between Joshua's images and your intervention? Your design still doesn't distract from his pictures, but compared to the previous campaign, it does feel more daring...
To me it was in fact all about working in harmony with Joshua's images, about finding that perfect balance between photo and graphics. Joshua and myself were initially hired by Carhartt WIP on the strength of a lookbook we did for his brand 'Filthy Club'. For that lookbook, I had made the set backdrops, Joshua shot the models and then I took his photos to fuck them up... So for me, working with Carhartt has always been about that relationship between Joshua and myself – him taking the photographs, and myself working them into final imagery. Apart from the film, we always worked on a fifty-fifty basis for Carhartt. As a huge fan of Joshua's images, and when I saw the amazing shots he got at the shoot, I didn't want to be selfish and imprint my style too much on his photos. I wanted to find that perfect middle ground where hopefully I'd not only celebrate Joshua's work but possibly enhance it.
While Joshua's photos are black and white, you've worked with color this time. Has the choice been inspired by this season's collection?
We wanted to continue working primarily in monochrome, but due to the fact that the artwork was to advertise the Spring/Summer collection, we decided to introduce elements of color. I purposefully chose primary colors – not only as they appear in the collection, but also to support the images strong analogue, DIY aesthetic. If I had used mint greens, lilacs or acid yellow it might have also been too much of a change this time. It wouldn't have served the style we're aiming for. I wanted to create something with the aesthetic of a hardcore zine. And hardcore zines often only have limited primary colors - if any.
Carhartt WIP and the DIY culture your designs are referencing appear to be connected by some sort of shared ideology...
Yeah, I guess the guys from Carhartt WIP come from the same life reference points as me, or have the same interests so we are on the same page with what we like and what we don't. The usual mixing pot of skateboarding, geeking out on japanese streetwear, good art & design, music etc. I myself am greatly inspired by DIY. Punk is not a cliche mohican or tartan trouers, true punk is a spirit, an ethos to guide your life, to Do It Yourself. It's how I've always lived and what inspires me daily. Rely on no one. Life is short, no ones going to give you shit, so go out there and make it happen... your way, your rules. Learn how to do everything yourself and you wont need to rely on anyone or anything. Master what you need and you'll become stronger than before. DIY isn't just making a zine. It's that constant driving force to make your ideas and dreams a reality by any means neccessary.
Speaking about shared reference points: What else connects you to Carhartt? What do you associate with the brand?
My early Carhartt memories are falling in love with the carpenter jeans and beanies back in the mid 90s... I think I got them from Natterjacks in Kingston... or from bond in Soho. Carhartt was one of the widest available street wear brands, and as a kid growing up in the suburbs of south-west London, it was always cool. Since then I've loved it and respected the hell out of its style and ethos – and I really fell in love deep with some of their recent collaborations, such as APC, Adam Kimmel, PAM, and Slam Jam. To say I'm fucking proud to have worked on two campaigns for them is an understatement.
I guess we also really make a great team – Joshua, Carhartt WIP and me. We are all visually on the same page and egging each other on. We all did our best to make it as good as we could all the time. Ultimately, we were trying to make the images that we ourselves would love to see.