Juliet Elliott - Sludge Metal and a Baby Tiger
Date published

05-May-2010
Her infectious good humour and enthusiasm will brighten even the darkest of days. Her sense of determination is legendary, as is her ability to take a massive slam and get up smiling. We caught up with her at her home in London.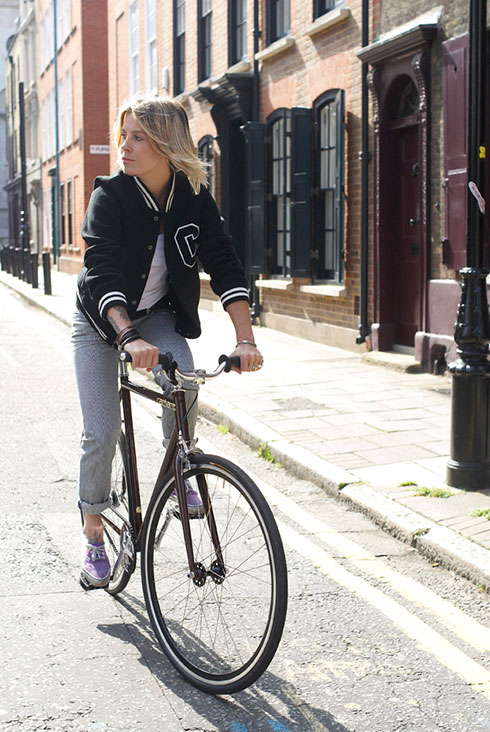 What makes you happy?
Lots of things make me happy. Here are just a few: cats, riding bikes, sunshine, playing and writing music, watching bands, having a bath, drinking beer, my friends, marmite, cute animals, METAL!
What got you into riding bikes?
London is a pain in the ass to get around on public transport so I started riding a bike. I just rode any old piece of shit at first, but they still kept getting stolen. After all the parts had been stripped from my bike for the second time in two days I decided to build up the cheapest, most stripped down bike I could, so it would save me money and there would be less to nick. So I built a fixed gear bike and I loved it immediately.
Didn't you use to be a sponsored snowboarder?
Yeah, I used to be on the Burton European team. I can't really afford to go snowboarding these days, but I would go all the time if I could. I love it!
Describe a perfect day?
In an imaginary world, I'd love to wake up in California and go to the beach for breakfast. Then I'd go ride my bike with all my friends from around the world. I'd magically be able to do all the tricks I can't do. After that, we'd drive up to the mountain, which would miraculously be very, very close, and we'd go snowboarding.
The park and pipe would be perfectly groomed, but we would also have epic powder. It would be really sunny and not cold at all. In the evening, I'd sit in an outdoor hot tub drinking a beer, then go eat pizza or sushi before going to see a band play. Maybe Eyehategod – that would be ace. All my friends would be there and we'd get drunk then go back to our mountain lodge, but I wouldn't have a hangover the next day. At some point I would get to hold a baby tiger too.
Gallery #7326
What frightens you?
Death and disease. Cancer.
What is your favourite place in the world?
I love California!
Cats or dogs?
Cats for sure, but I do like dogs too!
Winter or summer?
I hate the cold, so summer. I'm not a fan of short, cold, dark days. Even though I like snowboarding, give me the summer any day! I like wearing shorts every day and going to the park in the sunshine.
Town or country?
Town I guess. I love beautiful scenery but I like people and being around them.
Day or night?
A sunny day.
What is your favourite scent?
Kiehl's Original Musk.
What is your most treasured possession?
I know she isn't a possession, but it would be my cat.
What is your favourite colour?
Black.
Where would you most like to go in the world?
Tokyo, Bali, or India.
And where would you most like to ride?
Tokyo.
What do you most want to achieve in 2010?
I'd like to make enough money to remain freelance. I really prefer working this way. It's like having your life back. I had a nine-to-five for a couple of years beforehand and I hated it. Other than that, I want to ride more and start playing gigs with the band my friend and I just started. That's it. Simple!
(Interview: Mike Emde, Pictures: Samantha Hart)
Taken form Carhartt Brand Book N°3 Spring Summer 2010