Artist Feature: Modeselektor
Date published

05-Jul-2010
Precise, crystal clear sound structures, booming bass eruptions, and polygonal rythmic changes are the trademark of the two Berliners. With this they confect a sound journey that ranges from Kraftwerk electronic to Giorgio Moroder synthesizer worlds, from whipping Techno to Warp abstractions, and futuristic Dubstep.
For Carhartt Radio Gernot Bronsert and Sebastian Szary mixed a show, that presents more then just their own inventive rhythms and dynamic drum patterns. Also lots of music from acts like Girl Unit, Bonaparte, Martyn, or Four Tet enrich the one hour show. The cause for this open source approach is Melt!selektor, a stage during this years Melt! Festvial, that Modeselektor present and curate in cooperation with Carhartt.
To take a look behind the Modeselektor scenes we hook up with the two unpredictable jokers for a little chat about their early days, the mix, the Melt!selektor stage, and other things that you definitely need to know about Modeselektor.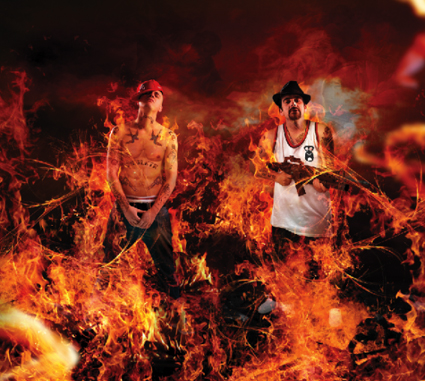 You founded Modeselektor around the turn of the century. What lead to this decision?
Modeselektor: We'll, we've been around for a little longer than that… If I remember correctly we started making music together for the first time in 1996! But we have known each other since elementary school. The reason to start in 1996 was that we were simply fed up wit Techno. We were quite on our own with that opinion…
How would you describe the musical range of Modeselektor?
Modeselektor: We enjoy doing everything that we can have fun with, from Acid to Zekkno!!
Do you think that music fans will once remember Modeselektor in the same way people remember Bach, Beethoven, and Mozart today?
Modeselektor: Wasn't Mozart the bloke who wrote the 9th Symphony?
What are you aiming at with your music?
Modeselektor: The moon!
Are you still happy with every title you have released?
Modeselektor: Of course we still identify with all our releases. After all they are like a part of us. Although, actually we think they're all crap!
You are about to start your own label very soon. What name are you planning to give your label?
Modeselektor: Our label is going to be called Monkeytown and it's actually much more than just a music label… It's more like a kind of support service for manic-depressive musicians.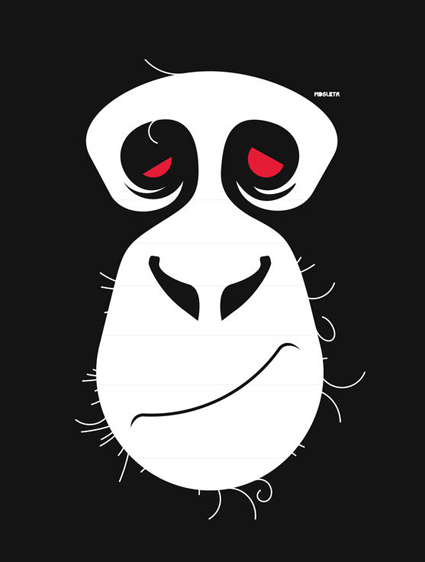 Which artists would you like to sign in the future?
Modeselektor: For now, Modeselektor and Siriusmo are the only artists. But let's see who else is going to pop up. Maybe Paul van Dyk or David Guetta. No, seriously, it all depends on their demos!
Do you think your music would sound differently if you were women?
Modeselektor: Our beats would probably be harder if we were women. Deep inside we'd actually prefer to be women, especially Szary. Women are the better human beings anyway!
How do you think Modeselektor is going to sound in five years?
Modeselektor: It's far more interesting how Modeselektor is going to sound like in 50 years, isn't it?
And how does Modeselektor sound in 50 years?
Modeselektor: Well, absolutely wicked, of course! Maybe a little bit oldschool, though…
How did you select the tracks for your Carhartt Radio show?
Modeselektor: Oh, we didn't really put our hearts into it, you know. It's something we put together in passing… it's not that big a thing, is it?
You will be curating your own stage at this year's Melt! Festival. How did this come about and what can we expect to see?
Modeselektor: Ah well, that came up more by a chance than by anything else. The stage is going to be called the Melt!selektor stage. Four Tet, Jamie XX (The XX), Blackrose (Jesse Rose & Henrik Schwarz), and Modeselektor feat. Bonaparte live, as well as DJ's Mala, Martyn & Kode9, Skate and Jackmaster will be appearing. The concert's visual accompaniment is coming from Die Pfadfinderei. The event will be on Friday, 16 July. On the next day we'll also be doing a latenight gig as Moderat on the main stage, that's the other band we have together with Apparat from Berlin.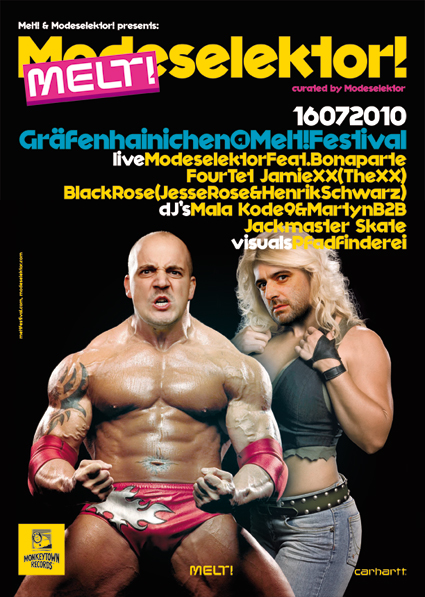 You are from Berlin. Can you name a few locations you find especially fascinating about your hometown which can't be found in a guidebook?
Modeselektor: Never!
Would you like to spend a year off work if you could and how would you spend it?
Modeselektor: No, we wouldn't like that. A year is just too long…
What do you do against occasionally loosing your minds?
Modeselektor: Alcohol, pills, cigarettes, coffee… basically, we take drugs of all kinds. Oh, and of course lots of Internet surfing and watching TV!
What's your advice in this apparent time of crisis?
Modeselektor: Hang on?! In times like this, we need every bit of advice far better more urgently than you!
What is your current musical top ten?
Modeselektor: The new album by M.I.A. is on all the places in our current top ten!!!!!!