Carhartt Radio - iPhone App
Date published

17-Jan-2011
From now on the beat is always right when you're out and about and it's right there at your fingertips: The brand new and free-of-charge Carhartt Radio iPhone App allows you to stream Carhartt Radio's exclusive monthly show to your iPhone. But there's much more to explore, as listeners can select the music by style or swipe and finger their way through the extensive Carhartt Radio archive to find the perfect sound for every conceivable moment in their lives. Furthermore the player runs hidden in the background, while the listener surfs through the infinite space of the World Wide Web. And if you are totally overwhelmed by the listening experience: just push some buttons and share the thrill with your friends and lovers via Twitter or Facebook.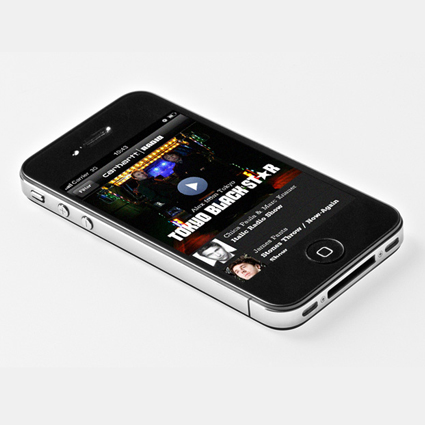 Since November 2008 Carhartt Radio has been producing monthly a music show for the Internet which breaks the mould of DJ mixes listeners are used to. Carhartt Radio is compiled individually by label makers, musicians and DJs who present their own art, work, and stories to create an intimate one-hour trip of sound. The selection of artists so far included names such as Tokyo Black Star, Modeselektor, TRG, Shir Khan, and Dudley Perkins. Also labels like Gomma, Permanent Vacation, Versatile, Stones Throw, Innervisions, and Prime Numbers have already presented remarkable music out of their extensive catalogues. Stylistically the sky is the limit and Carhartt Radio is totally free of any limitations in regards to musical genres. Whether it's HipHop, Dubstep, House, Techno, Indierock, Downbeat, Disco, Jazz, Soul or Funk: It's all Carhartt Music.
Carhartt Radio iPhone App Features:
- Runs in the background
- Streaming via EDGE/3G or WiFi
- Search by genre
- Includes detailes info about show, tracklist and artist.
- easy to share with friends and family via Twitter or Facebook
So no ifs and buts: if vibration alert is the only thing that made your phone jump, click here and get ready for a whole new shake with the Carhartt Radio iPhone App!
Free download at iTunes Store