FRESH OUT OF THE PRESS - SKATEBOARDING.3D BY SEBASTIAN DENZ!
Date published

21-Oct-2009
For the first time the book SKATEBOARDING.3D shows the entire series of photographs that Sebastian Denz took with members of the carhartt skateboard team. Let the 3D glasses take you on a visual journey to another world, where you will meet about 20 characters from the carhartt team: Join Giorgio Zattoni, Julian Dykmans, Gabriel Engelke, Julian Furones, David Couliau, Joseph Biais, Scott Bourne, Jan Kliewer, Hugo Liard, Christoph Merkt, Benjamin Thé, Patrick Munz, David Martelleur, Ferit Batir, Jerome Campbell, Stephen Roe, Olly Todd, Matt Grabowski, Pontus Alv and Daniel Hakansson and explore unique spots – from a sewer system transition over a forest downhill to self-made concrete spots and other special places. SKATEBOARDING.3D brings you a totally innovative view on skateboarding, the images will captivate you by their magic of fascinating image detail and full dedication to the moment. The deluxe 120 page book features a real linen hardcover with embossed title, 200 gram paper, comes in a nice 3mm thick slipcase with a linen finish on top and bottom and will certainly cast a spell on you, no matter if you skateboard or not.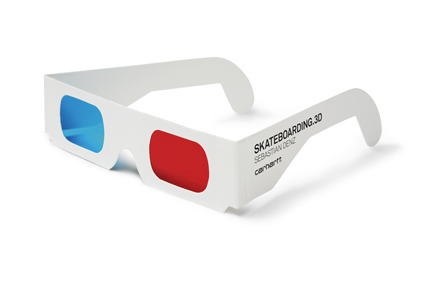 For his project SKATEBOARDING.3D, Sebastian Denz developed a unique 8 × 10 inch large-format-stereo-camera, that his friend and custom camera specialist Dr. Kurt Gilde built for him. SKATEBOARDING.3D deals with the constantly growing presence and evolution of virtual spaces in our society and the influence of this development on our perception of reality: "SKATEBOARDING.3D is about space in a phenomenological sense and about human beings creating their own construction of reality within these spaces. With the example of skateboarding-culture I bring up for discussion a ´hybrid space´ that is somewhere in between virtual and ´real´ – a ´postvirtual space´ (…) I'm talking about an expanded understanding of space, about lived, vibrant spaces that are loaded with many different qualities.
Skateboarders take architecture and the experiential environment surrounding them and, through their social practices, they adapt it, use it for other purposes
than for what it was originally intended, actually constituting the space, as well. In skateboarding, the skater ´scans´ with his board the surfaces of the ground below him, as well as the objects over which he moves. The vibrations go straight into the body and become emotional, they're perceived by the spirit. Depending on what happens, the emotional spectrum ranges from a state of absolute happiness to total frustration. In an extremely condensed series of events—for instance, before a difficult trick—the skateboarder can disappear so completely into the action that the act and the consciousness melt into one another. (…) Someone looking at my 3D pictures can comprehend these ´performative peaks´, and by putting on the 3D glasses, the viewer is drawn into a space, so that he also participates emotionally in it and its phenomena. (…) One could say that my photographs have an immersive power; they draw the viewer directly into the event."
Speaking about the 3D effect, Sebastian clearly differs his work from what most people would associate with the well known (mostly) cheap longing for the most sensational effect: "The strength of three-dimensional processes is, at the same time, their great weakness. In many of the works I'm familiar with, the medium does actually force its way into the foreground, so that the form displaces the content, reducing the work to a mere ´3D effect´. I have tried not to produce this kind of common 3D cliché. Through my experience, skateboarding has become a very important theme for me, and I wanted to depict it with a special optical process, to provide some deeper insight into the strongly differentiated and codified skateboarding culture."
With his work SKATEBOARDING.3D Sebastian won the 20th International BFF Promotion Award of the German Association of Freelance Photographers. A selection of images from SKATEBOARDING.3D were already exhibited, for instance during the Photokina in Cologne or at the Scope Art Fair in New York City. The actual prints for the exhibitions have an impressive "life-size" of 2,50 m x 1,25 m. There are numerous exhibitions to follow.
SKATEBOARDING.3D
Photographs by Sebastian Denz
Texts by Martin Roman Deppner, Klaus Honnef, Gottfried Jäger and Sebastian Denz
Published by and available through Carhartt Streetwear and
Prestel Publishing (Munich · Berlin · London · New York)
120 pages with 82 color illustrations (3D-anaglyph),
Hardcover in a slipcase with four 3D glasses, 24 × 34.8 cm,
English / German
(Lars Greiwe)