OLLY TODD INTERVIEW!
Date published

13-Feb-2009
Olly. I decided it would be a good idea now that the blog is up and running here on the Carhartt site to run an interview past you. The purpose of this being to allow the general public as well as the rest of the Carhartt family to become better acquainted with you and learn a bit about your space in the world.
J.S
: Since you've been riding for Stereo, trips to the States have become more frequent. Tell us a bit about how your schedule works in regard to splitting time between destinations..

O.T: When I first got on i'd go for a couple of weeks, maybe a month at a time. Had to keep the trips relatively short because I had a girlfriend at home. Now, though, I can go for longer each time – usually just under 3 months so it's good. Then I come home for another few months, re-charge, catch up with family etc.
J.S
: Right now a trip to sunny California would be a god send. As the harsh skate stopping Winter sets in here you must be excited to duck out and return later to a more manageable climate. Do you find yourself more productive over there when skating is guaranteed or does some of you yearn for the making something happen ethic Winter forces upon us here?

O.T: It depends. Some of the spots in LA are a bit uninspiring, sunshine or not. I guess I do prefer making something happen in cold old London. More rewarding.
J.S
: Have the lengthy trips you've taken in the last few years affected the way you look at skating here at all? Has it made you more appreciative of certain things or motivated you to use the city differently?

O.T: Definately. I do miss skating here when I'm away.
J.S
: By the question above I mean the shred at Stockwell with everyone zero pressure vs business-1 week photo deadline. By using the city differently I'm angling at honing your skills. What certain things are enhanced by your experience of another city and how you view the one you're in?

O.T: I still have deadlines when I'm here though, but yeah, there's more opportunities for the pressure free sessions with you mates. I guess I skate more in LA, just coz you can because of the weather so when I come home my board control is better.
J.S
: Anyone who has watched your video parts will know that a majority of your footage comes from exploring the city of London. Searching out new spots and approaching established ones from a new angle. Does London still hold that appeal for you, does it still surprise you every now and again 8? years down the line?

O.T: There's always new spots to find. It's amazing. Thing is I have filmed a couple of video parts here and shot a few interviews so sometimes I think I've exhausted the spots that I like to skate. Obviously this is stupid and lazy and I snap out of it and go and find something new or find myself in a random part of town after a disco and see something sick. London appeals to me still and surprises me constantly. I'm sure skaters have only exploited half, maybe two thirds of its potential.
J.S
: I couldn't imagine you being more stoked on riding for any other board company. How has being a part of Stereo motivated you?

O.T: Through Sheer, total respect for my favourite company.
J.S
: By the time you're back in the States you'll have Andrew Brophy, Paul Shier and Benny Fairfax as neighbours. Did having Paul and Benny around make life much easier for you a while back?

O.T: You know it mate. Godsends.
J.S
: There always has to be a food question. Transplant one food stuff from London to LA and vice versa.

O.T: Ranch dressing. Proper mexican food. Then, well, it would have to be baked beans wouldn't it?
J.S
: What responsibilities do you have this coming year as far as filming anything?

O.T: Full length Stereo video. I'm really excited about it.
J.S
: Do you have more trips lined up for later on in the year?

O.T: Not that I know of. Any offers?
J.S
: If you could bring back to life any skate spot that's no longer with us. Which one would it be?

O.T: Holborn via-duct banks.
J.S
: You've been riding for Carhartt for a while now. How is everything working out for you? Are you excited about being more involved in the future?

O.T: I am. I'm really stoked on the brand and look forward to making the most of being involved with it.
J.S
: You shot one of those 3d photos with Seb at the start of last year which will be coming out soon. How was that? Are you looking forward to seeing the photos?

O.T: Yeah I can't wait. I was stoked on the photo so hopefully it will look sick.
J.S
: I remember you rocked a cassette walkman for a while and a discman too when i-pods were the hottest item out. I think you and Toby Shuall are the last two people I know who caved in to buying a mobile phone. You have upgraded the discman fairly recently. I know you don't hate modern technology but know you have some strong feelings about aspects of it. What grinds your gears?

O.T: I actually got a discman for christmas one year and I took it back and swapped it for a regular walkman! I like I-pods though. I think I-pods and texting are the best aspects of modern technology. The rest of it just serves to draw people physically further apart whilst creating the illusion of genuine communication. It's unatural.
J.S
: I remember your theory about three items a man shouldn't own, what are these three items?

O.T: Pyjamas, an umbrella and he should never use a straw to drink his gin 'n' tonic, son.
J.S
: The years fresh and it even feels like it's started right now. What should we be looking out for this year? Any tips or predictions? I know you aren't a medium..

O.T: Liverpool FC for the premiership!
J.S
: Cheers Olly, any thanks?

O.T: Thanks Jacob. Thanks Carhartt. Let there be love.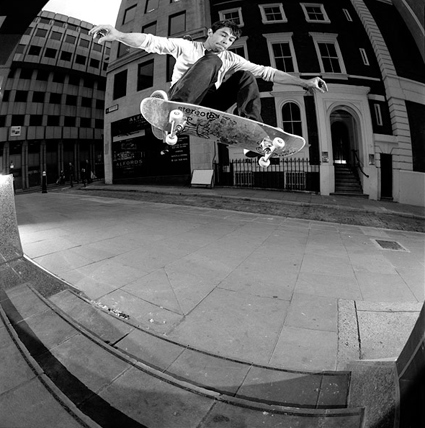 (BL)