Carhartt Jackets
Date published

05-May-2009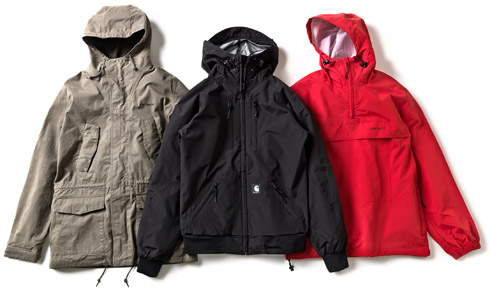 The first style is the Battle Parka in the colour way leaf, featured here on the left hand side. Besides an adjustable hood the jacket provides cuffs and waist, four large outside pockets as well as a high collar. The embroidered Carhartt logo is placed discreetly next to the left breast pocket. Battle Parka is also available in black, brown and beige.
The style in the middle is the Heli Jacket. This extremely water repellent jacket will keep it's wearer dry for hours while it is raining. Therefore all seams are sealed with a special tape. To make sure that your body don't overheat the material of the jacket is breathable and transport the moisture and vapor from the inner side of the jacket to the outside.
The cuffs and bottom band of this hooded nylon jacket are made of rib-knit.
The red hooded Windbreaker Pullover made out of matt Nylon Supplex is also available in five other colours. Elastic bands at the cuffs, adjustable bands at the bottom and a hood protect the wearer from wind and rain. Further more the large front pocket offers plenty of storage possibilities.
One piece from the Carhartt USA collection is the Teflon coated Active Jacket. This hooded zip jacket made out of 7 oz. "Flint" canvas is equipped with a kangaroo pocket, a rib-knit bottom band and cuffs as well as an inner mesh lining. The wall version is displayed here and it comes in a range of five colours.
As a tribute to the most popular jacket of all time, the Rude Jacket with its stand-up collar and check-patterned yarn-dyed lining, comes in a raglan sleeve cut that provides extra comfort. The lightweight jacket made of a PES cotton poplin mix comes in an array of colours such as black, dark navy, grey, khaki and red.