Mikosa Issue #6—Live Expo
Date published

03-Mar-2009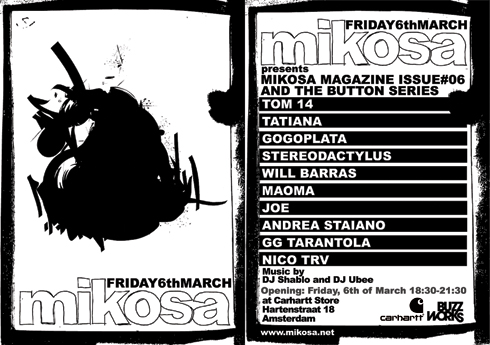 The release of the new Mikosa will be celebrated at Carhartt Store Amsterdam. The actual issue can be seen as prints in frames, each print by one of the participating artists as well as the individual gadgets.
Here's what the people behind Mikosa say:
"Mikosa Foundation coming out with a its latest Mikosa Magazine Issue#06. Again, limited artworks by 10 international artists with a special gadget from each one. This time with sketches, designs, unfinished artworks and dirty ideas by Andrea Staiano, GG Tarantola, Gogoplata, Joe, Maoma, Nico Whystyle, Stereodactilus, Tatiana, Tom 14 and Will Barras. This time's gadget is supported by button legend Buzzworks to set up the Mikosa Button Series. Join us for some great music by DJs Shablo and Ubee [Fakefriends], drinks and live painting."
And here's a short documentation (or proof) on how issue #6 was crafted:
Gallery #7295
Besides the expo around the current issue, there'll be all former issues, silkscreen prints, stickers and info about the mural they did.
MIKOSA Issue #6 Expo
at Carhartt Store Amsterdam
March, 6th / 6:30 p.m.
Mikosa official website