Ästhetiker Jam—Wängl Tängl 09
Date published

14-Feb-2009
And here's already a special announcement before we let the guys from the Ästhetiker camp explain themselves what they are up to. Besides pushing the crew and the Wängl Tängl for years now, Carhartt will hold a very special side event on March 18th. More infos to come, but one thing is for sure—you'll be excited…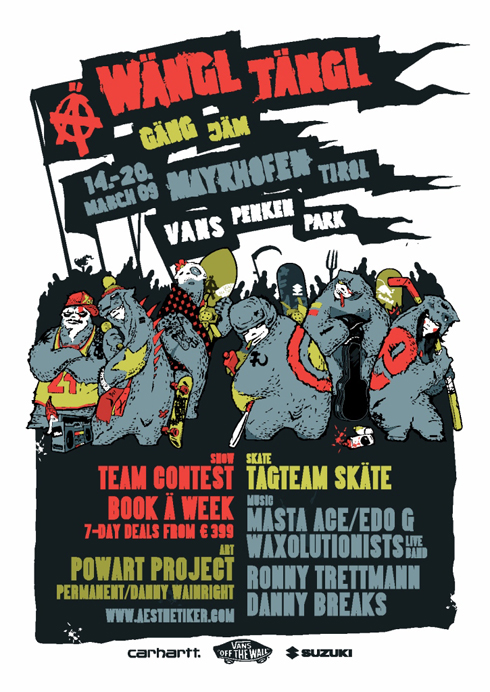 And now here is an excerpt of the official press release:
The Freaks are back!
From 14th to 20th of March the European mecca of snowboarding Mayrhofen will be on fire! Back once again for the 7th year running, this unprecedented combination of boardsports, art and music, the Ästhetiker Wängl Tängl is on.
The format of this years contest in the Vans Penken Park is a "Gäng Jam"—a crew contest where teams of three riders compete against each other. The best team will take home the majority of the prize money and, as if this wasn't enough, to the individual rider of the comp, Suzuki gives a stylish Suzuki DR125SM motorbike.
For the first time ever the qualification will be open for everyone provided they enter in a team of three. Three weeks before the event, the Vans Penken Park will be modified accordingly with countless man hours and all kinds of heavy duty machinery. Once again the piece de resistance will be the Red Bull end section and as per usual will require some pretty tech bowl riding skills from all entrants!
The Ästhetiker Skateboard Jäms are always focal points for the Austrian scene and demonstrate the affinity between the two boardsports. This year numerous Austrian skate stars will be joined by various international Pro Skaters from the Carhartt and Vans Teams. Once again the bombastic atmosphere of the event combined with the caliber of the massive Mega-Miniramp will set Mayrhofen alight…
Please check out Ästhetiker's officicial website for the complete story and all necessary information to become part of the whole show.
As usual we'll take care that all facts and side events will be available via our event calender, too. Until then you can check out the schedule right here:
We'll see each other in Mayrhofen/Austria.