BASEMENTIZID - FREDERIC SAUTEREAU`S "GAZA: WAS IT WORTH A WAR?"
Date published

10-Apr-2009
"Between July 1997 and April 2000 his work focused mainly on divided cities, namely Belfast, Nicosia, Mostar, Jerusalem and Mitrovica. The resulting series was exhibited at the Visa pour l'image festival in Perpignan 2001 and is regularly shown in the FNAC galleries of photography. His book on the theme, Des Murs et Des Vies (Of Walls and Lives) was published by Le Petit Camarguais in May 2002.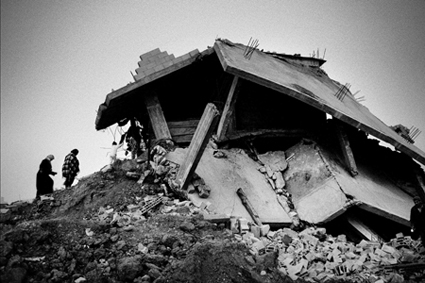 From June 2000 to August 2003, he devoted himself to the Lisières d'Europe (The Edges of Europe) project. This received the support of Label Paris Europe, the National Centre for the Plastic Arts, and the Hachette Foundation.
In 2003 he received the Fuji Prize for a work on the wall separating Israel and the West Bank.
In 2006, he is the first photo journalist to denounce the exactions of the Central Africans militaries against the populations in the North of the country. He received the Paris Match award in 2008.
Elsewhere, his work on New York in the aftermath of the 11 September attacks has been shown in France, Germany, Switzerland and Portugal. His book N40°42?42" W74°00?45" was published by Editions 779 in September 2003. This work is part of the National Fund for Contemporary Art."
Exhibition opening on Saturday 18th April 2009
Exhibition: 18th February 2009 to 6th June 2009
Open: Wednesday – Friday 15:00 to 20:00 and Saturday 12:00 to 18:00
Basementizid/ Germany | Wollhausstr. 17 | 74072 Heilbronn
Basementizid | Basementizid@myspace
(BL)