ISPO WINTER 2009 REPORT!
Date published

13-Feb-2009
The Ispo is a giant "International Trade Fairs for Sports Equipment and Fashion", so you can find everything from the craziest outdoor sleeping bag company to the most dope snowboard brand… One hall was dedicated to the board sports. It was where the Carhartt booth stood. This time we have shown few illustration from the new ad campaign by Mark Chiarello, our new board series and the new collection.
Gallery #7441
Not far from our booth was the Volcom miniramp and that was, where we spent most of our time between the meetings. Hans Claessens organized a funny contest on 3 days, the theme was "Redneck Rampage" and of course we had some good country and other bluegrass music for the sessions.
On the first day was a best trick contest (one hour of crazy session). Guillaume Mocquin (in good shape) did a lot of good tricks and won the contest. On the second day was a regular pool contest – a run and a jam with 10 guys. The pools were well done, the level crazy and it was really entertaining… The finals were magical, it was like watching a video, only good tricks and even better slams.
Our competitors were pretty impressive (Julian Dykmans, Phil Zwijsen, David Martelleur, Stephen Roe, Rob Smith and Ferit Batir). The English community was also extremely efficient (Andy Scott, Mark Churchill, Ben Raemers, Aaron Sweeney…) but once again the Basque duo Ivan Rivado and Alain Goikoetxea was over/ higher the others.
Gallery #7442
The session kept going on a long time after the end of the contest, the fridge has been attacked by Andy Scott (blunt to fakie – done) and Julien Benoliel (blunt 180 – almost done that day).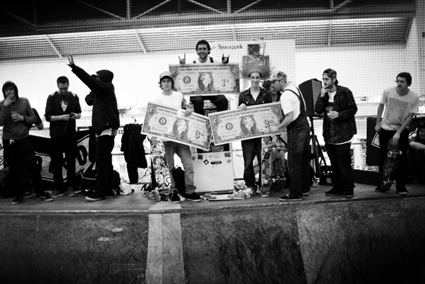 The next day was a shop battle session but we had to fly back…
I heard the session went on every day on the miniramp until the end of the tradeshow…
Thanks to Hans and Schützi for the spot! And see you next year!
- Bertrand Trichet
You can watch some videos about this contest on www.sidewalkmag.com