Gemma Booth - Street Heritage
Date published

13-Jul-2010
Detroit is out of luck. The city that used to be the cradle of American industrialisation is not all that cosy anymore. Once the fourth largest city in the US, Detroit is now number eleven, and continues to fall down the chart. For a while now, the heartland of American industry has been suffering from what Detroiters dubbed "the doughnut effect" – in the aftermath of racial uprisings and the decline of the American automobile economy, the higher-income middleclass migrated into the suburbs. Today entire neighbourhoods in downtown Detroit are barren, derelict, and decaying. In the last quarter of 2009, the unemployment rate was 29.9%.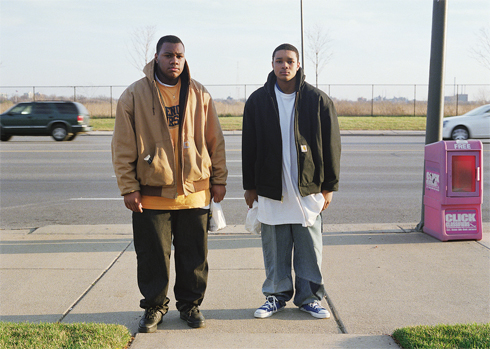 Almost ten years ago, British photographer Gemma Booth travelled to Detroit for Carhartt to record impressions of everyday life in the downtown area. Her documentary-style photos were intended for a book about the birthplace of the Carhartt brand. Unfortunately, the project was discontinued. Yet, throughout the intervening years, Booth's work remained unforgotten. Now, the very first exhibition at the new Carhartt store in Munich features a selection of large-format reproductions of her Detroit shoot.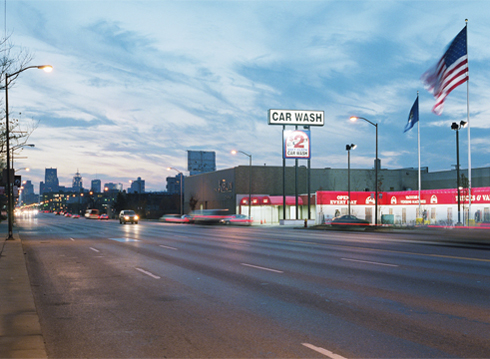 Due to their documentary nature, Booth's images have lost nothing of their immediacy – although they were taken ten years ago, the photos portray a Detroit that has not changed very much over the past decade. In order to better understand the story behind the exhibition and shine a light on her current projects, we met the photographer for an evening's conversation at a London restaurant.
YOU HAVE A BLOG WHERE YOU PUBLISH YOUR OWN PHOTOS AS WELL AS THOSE OF OTHERS. WHAT'S THE PURPOSE OF THIS BLOG?
It's a great place to show some of my ideas and inspiration. I post photos on there that I don't necessarily want to publish on my actual website. I might post images that inspire me, places I have visited, things I have seen and done. Recently I have shown the work of some illustrators who had taken reference from my work in their drawings. It's a visual scrapbook I suppose.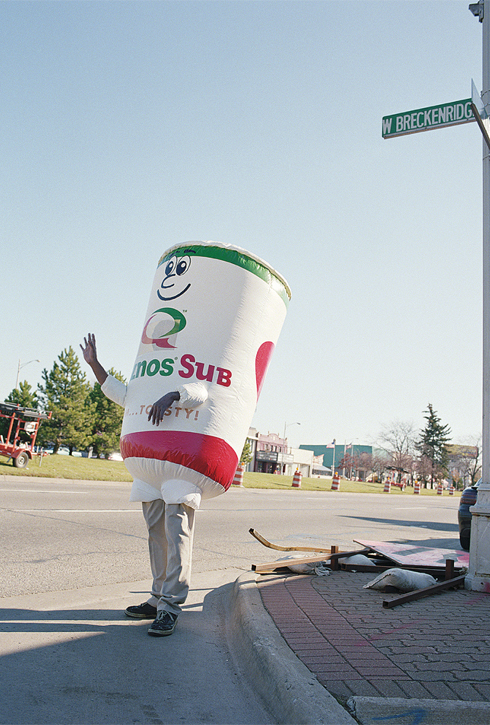 MANY OF YOUR PHOTOS HAVE A "SUN-FLARED LOOK". COULD YOU EXPLAIN THIS CHOICE OF STYLE?
I'm often inspired by old photos, films, and books. I love nothing more than hunting
around in vintage shops for old slides and photos. I suppose the antiquated feel of my work is inspired by them. I like the look and feeling of a scene drenched in sunlight. I want to produce images that make people smile.
THE NEW CARHARTT STORE IN MUNICH CURRENTLY EXHIBITS YET UNPUBLISHED PHOTOS YOU TOOK 10 YEARS AGO IN DETROIT. HOW WOULD YOU DESCRIBE THE DIFFERENCE BETWEEN YOUR WORK THEN AND NOW?
When I went to Detroit for Carhartt I was shooting documentary and portraiture
photography. Now I shoot mostly fashion. My style is the same, I still pick up on the same references, but the subject matter is different.
DO YOU LOOK FOR A CERTAIN TYPE OF MODEL FOR YOUR FASHION WORK?
I try to find a model that fits the brief I have given myself for the story, someone who feels believable as the character I want them to be. I look for someone with confidence and personality, who can move in front of the camera, and who is a bit of an actor or actress.
LIKE THE GIRL IN YOUR VIDEO "TREASURE BOX", WHO TRIES ON CLOTHES FROM A DRESSING UP BOX?
Yes, she was perfect for that kind of piece. She helped to add humour, and spontaneity to the shoot. I'm definitely not a fan of staged photos and I always cast very carefully in order to get a girl that can make the shoot her own.
YOU HAVE SOME FILMS NOW ON YOUR BLOG AND YOUR WEBSITE. WHAT INSPIRED YOU TO GET INTO FILMING?
I find it interesting to see my ideas come to life. My website and blog is a platform to show my creative work, be it in film or stills. With the emergence of more really good online platforms or "magazines", a photographer's work no longer has to exist just as stills. The boundaries are getting blurred.
YOU HAVE PHOTOGRAPHED ARTISTS LIKE THE ARCTIC MONKEYS, THE STREETS, AND DIZZEE RASCAL IN THE PAST. DO YOU STILL PHOTOGRAPH MUSICIANS?
Occasionally. Although, with changes in the music industry, there is less of that kind of work around. I'd like to get involved with shooting artists more. I like the idea of shooting fashion features with a well-known musician or actor/actress.
YOU HAVE WORKED A LOT FOR THE FACE MAGAZINE AND I-D MAGAZINE BACK WHEN YOU STARTED OUT AS A PHOTOGRAPHER. HOW WAS THAT?
Yes, these magazines were my "bible" through college and I was lucky enough to
realise my ambition to work at and for both of them on leaving my studies. I worked in the office of i-D, as a design assistant straight from college, and then The Face magazine as picture editor for more than two years. Working for these magazines gave me an invaluable knowledge of the magazine industry, and the contacts I needed to make it as a photographer. I continued to take pictures for both magazines long after I left the payroll.
WHY DID YOU CHOOSE TO PURSUE FASHION PHOTOGRAPHY IN FAVOUR OF PORTRAITURE?
I find it to be a much more creative process. With portraiture there can be constraints. For example, you may only have a limited time with that subject, and they may prefer to only be photographed in a certain place or way. That in itself is an interesting challenge, which forces you to think on your feet, often with great results. With fashion photography however, you can make your own story and direct the models as you would actors. I can choose the location, the hair and make-up artists, and have much more control over the final look.
WHAT KIND OF EXPECTATIONS DO COMPANIES HAVE WHEN THEY BOOK YOU?
Amongst the many kinds of fashion photography, most fall into either editorial fashion, which is primarily for magazines but also now covers web "magazines", or into commercial or advertising work. Generally you may have a looser brief when you shoot an editorial. With advertising the objective is to produce imagery to advertise or sell a product, in this case you would normally have an art director and the client would usually be present. People still book you for your style however, so it is important to maintain your personality whilst answering the given brief.
CAN YOU TELL US A BIT ABOUT YOUR WORK FOR OTHER FASHION LABELS?
I have worked for many fashion brands over the years. A client I have had for a
long time, and who I enjoy working for very much is the US label American Eagle. I
shoot their intimates brand called Aerie. I have just returned from another shoot with them, this time in Miami. The work I do can be quite diverse, for example I shot for the French label Chanel, with a group of girls in Mademoiselle Chanel's apartment in Paris. It was for a new lipstick launch. That was an interesting shoot, and it was great to shoot for such a prestigious company. Then I shot a campaign for girls surf label Roxy. We staged a music festival on the beach with a huge cast of extras and shot the model crowd surfing. A totally different subject matter but still my photographic style. I love the diversity of work my job can bring.
HOW DID YOU COME UP WITH THE IDEA FOR THE ROBOT SHOOT?
I shot that story for a magazine called 125, they have a theme for every issue and this time it was "The Future". I imagined that most people would produce high-tech, space age looking shoots that would be highly retouched. I wanted to do something that was more like how we used to imagine the future from the past, I liked the idea of it looking like a 70s B-movie. So I shot it on film, with large grain and highly saturated colours. The robot had that "hand made" feel, and it did indeed have a washing-up bowl as a head with light bulbs for the eyes. That's why I like fashion photography, you come up with ideas and make them happen.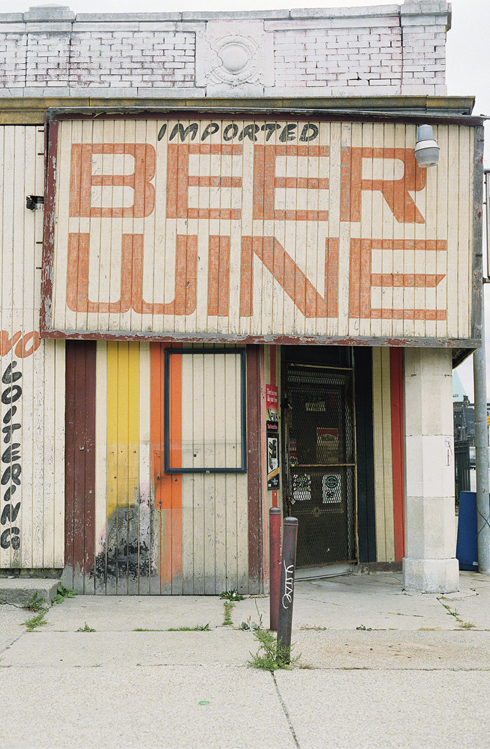 WHAT DO YOU USE MORE, FILM OR DIGITAL?
I use digital more these days. I still love the feel of film, particularly the grain you get with a high-speed film. With the right re-touchers to work on the images you can achieve that filmic look with digital files. I will often shoot an editorial on film, although, I'll always end up scanning in the negative and working on colour etcetera on screen.
WHAT IS YOUR TAKE ON THE RELATIONSHIP BETWEEN CARHARTT AND DETROIT?
I think it's interesting that in Europe people see the label as a fashion brand, and don't realise the deep rooted heritage the brand has with Detroit. Likewise, in the US, they still primarily wear Carhartt as strong and reliable work wear, not knowing that back in Europe it is a fashion label. We found many people in Detroit were wearing the original Carhartt working clothes. I took photos of guys I just met working in the streets. That was the aim of the original book: to inform people of that work wear heritage.
CAN YOU TELL US A LITTLE MORE ABOUT THE DETROIT SHOOT TEN YEARS AGO? HOW DID YOU CHOOSE WHAT TO SHOOT AND WHERE? AND DID YOU SET UP ANY OF THE SHOTS?
We researched the different aspects of the city that we wanted to cover with the help of a local journalist. She told us about places to go and put us in touch with people to meet. One thing we wanted to document was that Detroit is such an important music city, the birthplace of many bands and artists. We went to gigs and clubs, the trip was at the height of Eminem's success and we witnessed some MC battles, which was a real experience. One place we went to was called The Dynasty Lounge, it was in a notoriously bad area of town, and I was a little apprehensive about how well received my camera and I would be. Fortunately, everyone was so keen to be photographed in the hope that it would help them to be discovered that I had no problems at all. I just felt sorry the shots couldn't really help them realise their ambition. One of the people we were lucky enough to meet was Mike Banks from Underground Resistance. That was a unique opportunity as he has always famously refused to be photographed. We were lucky he was interested in the project and agreed for me to shoot him with some local kids.
Detroit is also synonymous with the car industry, which is how it earned its nickname Motor City or Motown. We visited the vast Ford plant which still existed, but on a much smaller scale than in the booming 50s. It is through huge job losses in this all-important industry that started what is known as the "doughnut effect". Since the 50s, Detroit's population has halved. We saw boarded up buildings, the streets occupied by the homeless and soup kitchens rather than commerce and industry. It is a very surreal thing to see, and something I have never witnessed elsewhere. The neighbourhoods get increasingly well off as you get further from the city. There was regeneration starting to take place in the city centre, so I'm hoping things have now improved somewhat. One thing we unfortunately didn't get to do was to go to an American football game. Sport in Detroit, as in all of the US, is a passion, and the city has a huge superbowl, home to the Detroit Lions. Having such an open photographic brief and the opportunity to spend a few weeks in such an interesting city was amazing. Detroit is a very unique place.
HOW DID YOU SELECT THE PICTURES FOR THE EXHIBITION?
I suggested shots that I would like to be exhibited in Munich. After that the Carharrt
team were responsible for the rest. I came to the opening night and I was very pleased with how it had been printed and displayed. It was nice to see the photos again after all these years. There are so many good pictures from that shoot, but we only had space for a limited number of shots. There is also talk of taking the exhibition to Tokyo which would be great.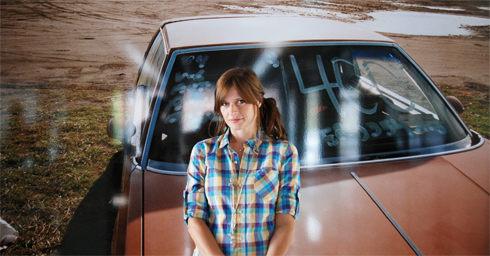 (Text: Michael Leuffen/ all images by Gemma Booth except for image of Gemma Booth by Nuri Rashid)
Taken form Carhartt Brand Book N°3 / Spring Summer 2010
For more info
Gemma Booth official website