Marco Klefisch
Date published

02-Oct-2009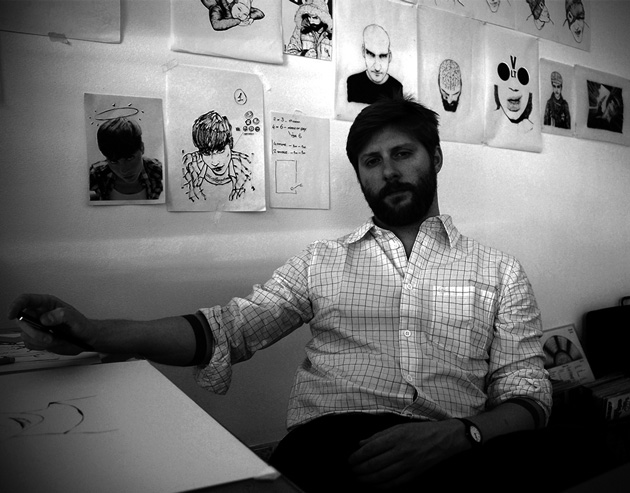 Music can enhance your senses. For the beautiful, for the new, for feelings and ideas. It is a vibrant source of inspiration that no less than influences and guides your creativity. "I can 'see' music in a really intense way and I often give in to this vision as the muse of my creative world," Marco Klefisch explains when asked about his relationship with music. Klefisch began drawing as a kid making pictures of characters of his own invention. Later he studied art and immersed himself in the graffiti scene of his birthplace Milan in Italy. "Ten years ago, I spent a lot of time doing graffiti. I learned the meaning of competition, and my ego developed in one of the best arenas I have ever known," the 33-year old sums up his experimental days spent with a spray can in hand.
(Carhartt Fall/Winter 2009 ad campaign illustrations by Marco Klefisch)
Gallery #7317
Today he is a busy graphic designer and illustrator, and he has managed to become so without selling his own soul. No matter whether he is doing illustrations for magazines like Vice, The End, Arkitip or Rugged, for record labels such as EMI, Sony or Virgin, or for brands like Carhartt: the handwriting of psycho rock, soundtrack, and weird funk enthusiast Klefisch is always clearly recognisable and does not follow any form of zeitgeist. "I basically try to do what I like. I try to fit my new ideas into my commissioned work. I prefer to work on my own contents and, when it's possible, to sell them to the client. Actually, I try to use my graphic design experience in a combination with photography to produce handmade illustrations," he explains the form and current focus of his work which he pursues from his Milano-based studio.
Klefisch is also a member of Rebel Ink Crew, a collective dedicated to demonstrating in live performances how pen and brush can inevitably be used to capture graffiti art on paper – an intuitive form of illustration thanks to which Klefisch has learned to master his craft to the degree of perfection. "I use different drawing techniques, but actually I use the brushpen in a massive way. Ink is like a simple, powerful language that translates all you want to say. Right now is a very good time for handmade illustrations. The advertising world feels the necessity to use different new/old 'weapons' to express itself," he comments on his current artistic proclivities and the positive feedback he has been receiving for it.
For the coming Carhartt Fall/Winter campaign the Italian has now concentrated his talent on a series of pictures with a remarkable vitality and humanity. "In my experience, Carhartt is deeply rooted in European street culture. It's real. I imagine a black-and-white, roughandreal, evil side of this world," says Marco Klefisch about his Carhartt campaign and the source of his inspiration for it. Once more music plays an important part, too, he reveals: the track "Give It Up, Turn It Loose" from the album "The Age of Electronicus" by American jazz pianist Dick Hyman is currently powering the wings of his imagination.
Text: Michael Leuffen / Image of Marco Klefisch by Nuri Rashid
For more info:
Marco Klefisch's official website