2nd annual CPH Pro
Date published

13-May-2008
27th–29th June 2008, Copenhagen/ Denmark
For the second time, The Royal Skatepark of Copenhagen in cooperation with Spotlight PROductions gets skateboarding's professional elite over to the wonderful city of Copenhagen. From the 27th to 29th of June, around 50 of the worlds best skateboarders will find their way to the capitol of Denmark to spend a great time of finest skateboarding together and please the crowd of spectators. The CPH Skatepark crew and the locals give everything to make it an unforgettable weekend. Right now they are just getting a brand new streetcourse done for the event and are in the midst of organizing everything around the contest from pre- to after-parties.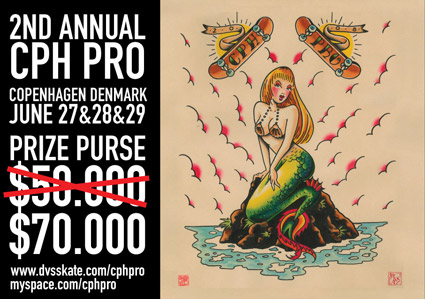 Quote from Ryan Clements, Spotlight PROductions and co-arranger of CPH Pro:
"Let me tell you… what a contest! The entire time was pure excitement. The Danes love their vert and it was seriously just the best environment for a vert contest that I've even been to. The decks and balconies surrounding the ramp were packed with people screaming for literally everything and anything. The pros were hyped and pushing boundaries with every run they took. It was seriously amazing… just off the charts."
Check out CPH Pro at MySpace
Royal Copenhagen Skate & Copenhagen Skatepark:
Copenhagen Skatepark is the result of the work done by Royal Copenhagen Skateboard Association since 1997. The Skatepark is the framework for the association´s activities and is used by 40,000 people every year and in the winter season the park is used by 150 people daily. The park has been built and is managed by skaters, all with a wide ranging knowledge of skateboarding. It is a 2.400 qm brilliant skate architecture. Since its opening in 2002 some of the biggest skate stars in the world have visited and used the park.
Copenhagen Skatepark receives DKR 1,7 mil (US$ 350.000) operational grant from the Copenhagen Council and is part of the Culture and Leisure Department of Copenhagen Council.