Label Feature: Versatile Records
Date published

02-Jun-2010
Versatile Records Radio Show Gilb'R
Fortunately Carhartt Radio managed to move deep down in the unpredictable world of Versatile Records, the French label from Paris that is always good for fresh music adventures.
Since 1996 label head Gilbert Cohen aka Gilb'R likes to do mysterious moves while releasing music that stretches from Broken Beat to House, Techno, Electronic, Jazz, Ambient, Downtempo, and spaced out Cosmic sounds. The labels artists roster comprised famous names like Chateau Flight, Joakim, I:Cube, Phil Asher, Pépé Bradock, Fabrice Lig, Kirk Degiorgio and promising newcomers like the young Disco trooper Etienne Jaumet.
For Carhartt Radio Gilb'r delivered a mix filled with tracks by himself, I:Cube, Joakim, and Etienne Jaumet, that jumps from Cosmic atmospheres to jazzy House and energetic Techno. To spread some background information about Versatile Records and the work of Gilb'R, we chatted with him about his work, his philosophy, and his leisure time activities.
Versatile is a label that's not easy to pigeonhole in terms of a predominant musical style. When you founded the label in 1996 what was your motive?
Gilb'R: Have fun and release music at the intersections of differerent genres. i always liked different kind of music and i wanted my label to reflect that.
How would you describe the musical bandwidth of Versatile in your own words?
Gilb'R: From what makes my feet stomp and my head go high!
Do you think that music fans will once remember certain Versatile artists in the same way people remember Bach, Beethoven, and Mozart today? If so, of which artists are you thinking?
Gilb'R: The music of those guys arrived thru music sheet, other wise, no Mozart and so on. Today, even the physical support is dissapearing, so it will be really interesting to see what will last in the future… But as we are still doing vinyl, some records from us could be found in 300 years buried in a garden somewhere… The problem will be how to play it. But i'm trustful enough in the madness of humans. One will have a turntable…
What do you aim at with the music released on Versatile?
Gilb'R: It has to be emotional, production skilled, a little bit twisted and pretty melancholic. I like to see people in their music.
Can you think of an artist that you've always wanted to sign for Versatile?
Gilb'R: It would have been Pépé Bradock, but first he is very slow, and he has been on Versatile at the beginining of the label… Jackson also. I proposed him to sign on Versatile in 1997! But he decided to go on Barclay… he is also very slow.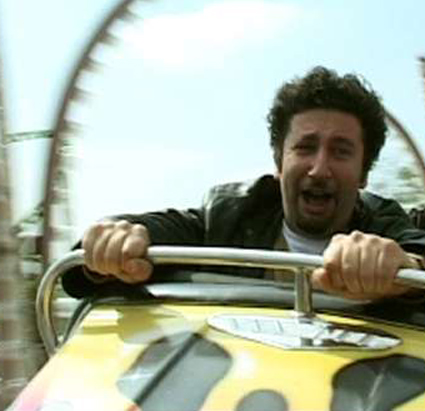 Do you think Versatile releases would sound differently if you were a woman? What kind of sound would that be?
Gilb'R: We all made with both sides (man and woman) in one body and mind. So i assume my woman side and hope it express in the music i am doing and producing. I can't go further than that…
How do you think Versatile is going to sound in five years?
Gilb'R: Hope it will sound fresh!
How did you select the tracks for your Carhartt Radio show?
Gilb'R: I wanted it to reflect the dance side and the mind side.
If you could take a year off work, how would you spend it?
Gilb'R: Travelling with a camera and a lovely girl!
What do you do to keep yourself from loosing it every now and then?
Gilb'R: Listening to a lot of music brought by all the artists of the label… and the one i am diggin myself.