CARHARTT X UDG DJ Bag: Modeselektor
Date published

12-Oct-2010
Precise, crystal clear sound structures, booming bass eruptions, and polygonal rythmic changes are the trademark of the Berlin based duo. With this they produce a sound cluster that reminds to whipping Techno as well as to crunchy Warp abstractions and futuristic Dubstep. Especially their live qualities are world-wide famouse and that not at least because the two funsters like to to change the mood out of the blue without loosing the flow.
As they are notorious performancers we thought they might be the perfect proband to test our CARHARTT X UDG DJ Bag en route. After a testing phase we hook up with them again to ask some questions about their daily DJ grind and their experiences with the CARHARTT X UDG DJ Bag.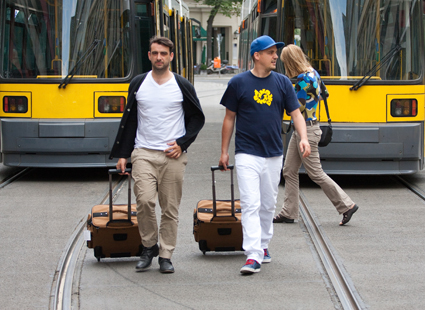 (Photo: Tobias Hoffmann)
How did the digital revolution change your personal way of DJ-ing?
Modeselektor: Well, it actually didn't change it really … We've always followed the newest trends in djing but never gave up playing with vinyl. And we usually play live sets and only occasionally DJ sets … .
What's your favourite format, vinyl, CD, or mp3?
Modeselektor: Definitely vinyl and CD. If it's a high quality MP3, then that's okay too.
What do you think a DJ set-up will look like in the year 2020?
Modeselektor: A DJ will travel lightly then and won't have a lot of baggage – just a few CDs, a laptop and headphones. And even this will get less. The music technology industry is more and more focusing on software solutions and hardware controller. It will get even more digital. It's already starting – look at the iPad!
(Photo: Tobias Hoffmann)
What's your most favorite DJ location?
Modeselektor: The best location is always open air! But there are always locations that are fun to play at, like Sub Club in Glasgow, Rex Club in Paris, Fabric in London, or Berghain in Berlin. But our best and most legendary DJ sets took place at the former WMF at it's location at Café Moskau in Berlin.
What you like about the Carhartt X UDG in particular?
Modeselektor: The good thing about the Carhartt X UDG is that our live equipment fits in perfectly (laptop, cables, controller, soundcard, guitar effects) and that we can claim it as hand baggage on a plane. A hardcase on wheels is nice too, of course, and used to travel with it, but it's rather heavy in relation to the Carhartt X UDG . And if you fly every gramm counts.
Did you encounter any problems with your bag as a carry-on item?
Modeselektor: Yes, of course. Mostly with security staff at the airport. And most baggages just are beat-up after a while. Let's see how long the Carhartt X UDG makes it. It looks rugged though.
What would you change or add to the bag?
Modeselektor: Well, for now it's fine!
Anything else you would like to comment on?
Modeselektor: The splash guard that protects the content of the bag against splashing beer or other party drinks is awesome! This is a problem most DJs have faced in their career sooner or later … This really is the highlight of that bag! Apart from that the Carhartt look is great as always. Looks like hard work, which it is, right?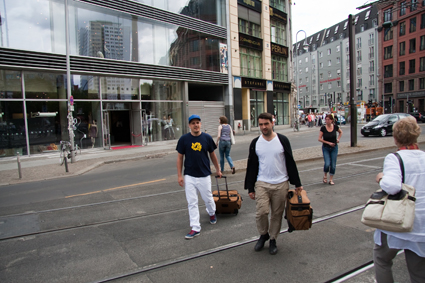 (Photo: Tobias Hoffmann)