BLOOD OATH - AN EXHIBITION BY RICHARD "FRENCH" SAYER 31.10. - 22.11.2009!
Date published

09.11.2009
"Sourcing inspiration from and combining his two great loves – heavy metal and skateboarding – French has developed his signature style of detailed, finely crafted drawings rendered in pen and ink, that create atmosphere and depth like no one else can. His dark and often macabre work has led him across the globe, showcasing work in the USA, Denmark, France, Israel and Australia and it is with open arms that we welcome him to The City of Metal!!!"
- Archipelago Art Gallery
16-20 Sidney Street, SHEFFIELD, S1 4RH, England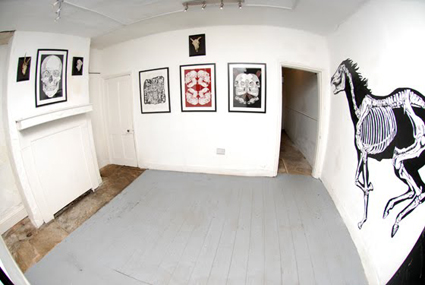 A collection of 12 super limited edition screenprints, printed by Josh Bedford.
Gallery #7498
Printed onto Keaykolour Recycled 250gsm paperstock, using water based inks, each image is limited to an edition of 6 and is signed and numbered by the artist.
(Bastian Loewen)