AHOY AND AMEN - PIRATE BBQ AND ELZO EXHIBITION IN HOSSEGOR!
Date published

17.06.2009
Elzo Durt will give the starting shot on the 26th of June with the Vernissage of his exhibition "Amen" at the gallery space of the new carhartt store in Hossegor. The exhibition will stay in Hossegor for one month and then move on to other cities in Europe (details about the exhibition tour soon). On the 27th you can witness the skills of around 30 Pros from all over Europe erupting at the "Pirate Bowl Boat Quake" taking place at the factory store in Hossegor on the 27th of June. The party will start at 13h and shake the earth with live music, food and drinks until the sun sets and it is time to move on to the afterparty at "Chez Monette" in Seignosse. On sunday the 28th the pirate boat will be open for anyone for a session.
The Schedule looks as follows:
Friday, 26.06.2009
19:30 Vernissage of Elzo's Exhibition "Amen"
Carhartt Shop Hossegor
48 Av. Paul Lahary
40150 Hossegor
Elzo Durt is the artist behind the "Yama & Carhartt Mental Weirdo Asylum Series", a collaboration series of 4 pro-models between Yama Skateboards and carhartt that are just about to be released.
Saturday, 27.06.2009
13:00 – 22:00 Carhartt and Vans Pirate Bowl Boat Quake (an
invitational skateboard challenge)
Carhartt Outlet
334 Av. des Artisans
40150 Hossegor
France
17:00 – 22:00 live bands at the Pirate BBQ (organized by Elzo):
Magnetix
Hello Sunshine
The Meatards
The Weakends
Strange Hands
Texas Holdem
+ Surprise
23:00 Afterparty
Chez Monette
5 Rue Jean Moulin
40510 Seignosse
France
Thanks to Vans for the nice support and to Turquise Surf Travel and Channel Island Surfboards, who donated nice prices for the challenge (A flight to SF and a Surfboard designed by Elzo!!)
We hope to see you there!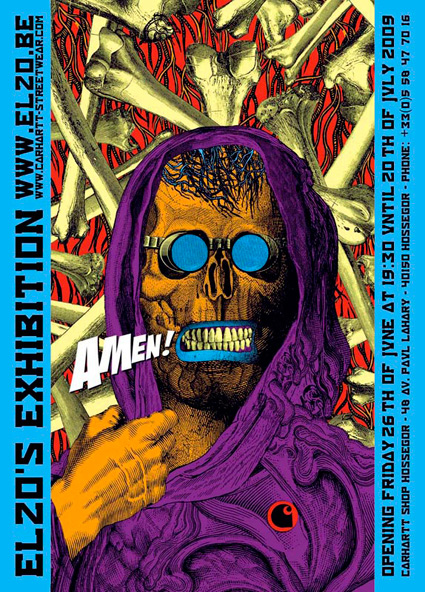 Gallery #7467
(LG)