BASEMENTIZID PRESENTS "DOPAMINE" AT THE MOBILAT CLUB HEILBRONN IN SEPTEMBER!
Date published

01.09.2008
DOPAMINE
Origin; from dop(a) + amine (a related substance)
Dopamine is a part of Insights advertising campaign. Wherever Dustin and Bradfort take pictures of their skate- and surfteam in a different context spiced with a dose of creativity, there will be red wave surfing, graveyard skating, motor-cycle riding femme fatales or even famous skatespots in a surreal setting…
The kind of photos that shakes your consciousness. Check it out at Insight 51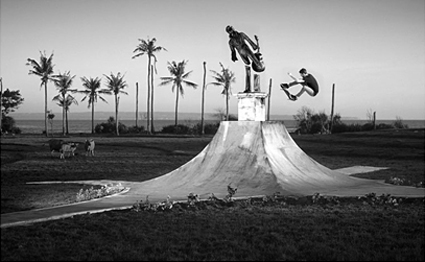 At the same time there will be another exhibition called "behind the scenes" in the Data 77112 showing the Basementizid projects from the last years.
Data 77112, Schulgasse 15, 74072 Heilbronn.
Join us also at the afterparty. Start 21.30.
AUXES (USA, Lovitt Records) – indie, post core…Members: MILEMARKER, CHALLENGER, FIN FANG FOOM, Ben Davis Band, BELLAFEA, Bats and Mice u.a.
BAJA (Stuttgart) – duo, drums, laptop, bass, vibes and a bit free jazz
zombeatz – hip hop electro-dubstep-break, member of Dubwars
DJ Tim! – electro-rocking-breaks
Basementizid.kunst.cellar
Basementizid | Basementizid@myspace
Support by: carhartt streetwear | we drink: premium cola