BEN THE EXHIBITION!
Date published

02.06.2008
It seems that everything is alike and stays that way. And this is how every day, every morning starts: with coffee or tea. It starts with it and ends somewhere else. Each day has its surprises but it always begins with the same: coffee or tea. It's definitely tea on June 7th when Ben Thé transforms the basementizid gallery into a room installation named "Tea Room".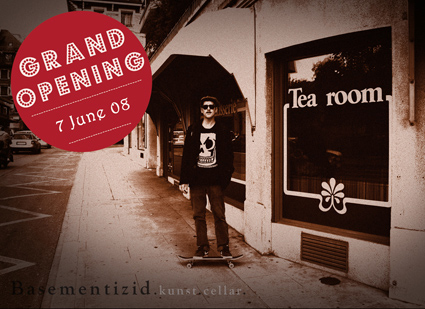 On the very same day the "Heilbronn Skate Contest" takes place at the Skatepark at the Franken Stadium and the whole day will end with the afterparty at the Mobilat Club. It's up to you, if you attend the party for having fun by recreation or by partying hard…
Ben Thé lives in Geneva where he is studying at the well-known "Head" academy. He works as graphic artist vor French skate company Antiz Skateboards and has done several graphic designs for Carhartt, too. He creates collages, that matches in perfect as a overall picture with the background (for example of: doors, walls and Torsis) and by doing so he develops a new picture through it. He composes as well skateboards, shop windows and T-Shirts. It seems…………..everything is possible. He can be seen as an allround artist.
To Heilbronn he brings his vision with, of a "Tea Room" and will transform the Basementizid into a same titeled room installation. The exhibition will continue until the 1st of August and is the last exhibition at basementizid before the gallery (owners) take their summer recess until September 19th.
Location:
Basementizid.kunst.cellar
Sülmerstr. 21 (beneath Burnside Store)
Heilbronn/ Germany
Open:
June 7th until August 1st only on Saturdays from 1pm – 6pm
Links:
www.createavitea.com
www.basementizid.com
www.myspace.com/basementizid
www.mobilat-club.de