Black Book Sessions
Date published

12.03.2009
Espaun 256 is Tomás Peña's alter ego. Since his early teen years he's been busy in the world of graphics and has worked for some of the best graphic design studios in Europe and North America.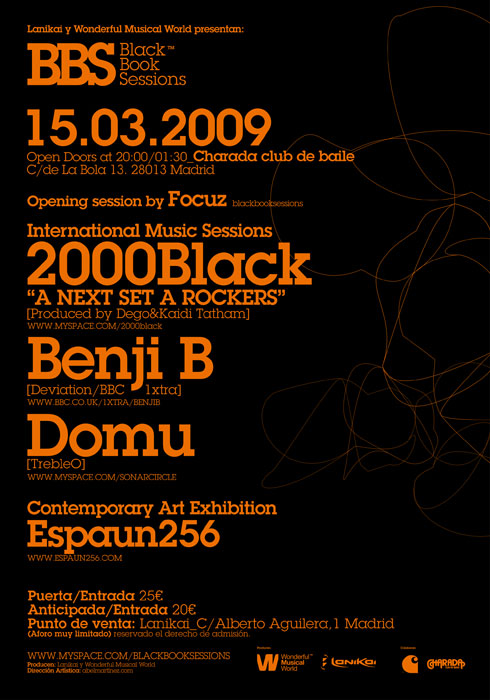 The music provided is another heavy weight: 2000Black will perform their latest instalment "Next Set A Rockers" live. Produced by legendary Dego of 4Hero fame and Bugz In The Attic member Kaidi Tatham you're about to experience a very special night. Soul, funk and boogie are revealed in the bands very own unique style. The labyrinth of 70's synthesizers and drums create a lavish warm feel in contrast to the current digital age.
The whole spectrum will be round up by live DJ sets of Britain's worldwide known Benji B, who's "going to bring the Deviation vibe direct from London, playing music that represents the wide spectrum of soulful music you can hear on my BBC 1xtra radio show and also at my monthly club night in London. Expect cutting edge music, expect to be surprised. Plenty of exclusives and new sounds plus some classics too. Looking forward to sharing my sound with Madrid."
Along with Benji B comes Domu who says "… Every good DJ should consider the crowd on both an intellectual and emotional level, something they know followed by something they don't. It is a game in which you can either trick or educate the people to shake their booty to things they wouldn't usually consider danceable. But most importantly, we should all have Fun!"
So Black Book Sessions are constantly fulfilling their aim to bring the public of Madrid some of the most prestigious artistic and musical movements that are developing in other cities of the world.
Black Book Sessions
Charada club de baile / Madrid
March 15th / 8.00 p.m.
More info:
Black Book Sessions on MySpace
Espaun256 official website
2000Black on MySpace
Benji B on BBC Radio's 1xtra
Domu official website