Artist Feature: Mugwump
Date published

01.08.2010
Mugwump Radio Show Mugwump
Since 2004 the Belgians Geoffroy Dewandeler and Olivier Gregoire aka Mugwump produce electronic music, that is hard to pin down to one genuine style. Sometimes they deliver melodic driven Techno. Also Disco, Deephouse, Hip-House, Italo, and classic Belgian New-Beat is part of their versatile creations. Beside inescapable peak-time bangers they also produce slowly thrilling anthems that are not made for straight dancefloor business. To find out how they manage to produce peerless rhythms for labels like Kompakt, Cocoon, R & S Records, or Endless Flight, we had a little chat with Mugwump's Geoffroy Dewandeler (picture below, left), one of the two man in charge for this month Carhartt Radio edition.
Geoffroy, what lead you almost 20 years ago to the decision to become a DJ and producer?
Mugwump: It's rather something like 15 years that I've started djing actually and, well, one thing led to another really. My parents were into (dance) music bigtime. My father had a massive jukebox in his bar which was playing tons of (mainstream) Disco, Soul, Funk, crooner music and Pop and i was buying the 45's to fill it with my mother every week, starting my own, first collection in the process. People were often dancing in the bar and so was I. Later I started to go in clubs by myself ( at a very very early 12 years old) and never looked back. When New-Beat appeared in Belgium, I totally fell for it, it then led me to House, Techno – you know the drill. Boccaccio was a massive influence on me as well as my first Ibiza trip. I naturally started mixing after being a hardcore clubber for all these years (with a first ever gig in the last days of the Boccaccio, my friends had rent it for a special one-off). A little bit later i started to get into music production, too.
How would you describe the musical bandwidth of Mugwump?
Mugwump: The one who describes our music perfectly is Michael Mayer. He says it is a mindtrip on its own that's easily enjoyable in a sober state. I reckon that it is rather spacey and full of solid Disco, Techno and House roots that sound totally modern.
How did your style change within the last decades and why?

Mugwump: I am into playing 4/4 music from all sorts and when i changed my style of djing over the years, i think it was always some sort of unconscious reaction against a sound or a trend becoming the norm or somehow when the slackness of a music scene turns the music into a parody of itself. Styles comes and go. Open-mindness is the key.
What was your biggest hit so far?

Mugwump: It's definitely Boutade on Ewan Pearson's label Misericord that definitely put us firmy on the map i think. When you have Ewan Pearson taking risks to release a track on his ultra-elusive vinyl label and you got tons of absolutely massive feedbacks and you end up on position 3 in the DJ History end of the year poll, you are onto a winner i suppose. But we never made 50 copycat trax based on Boutade. Far from it we are working our asses off to write our own chapter.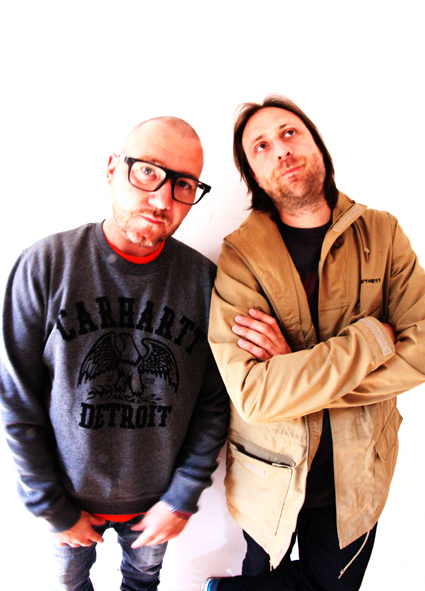 What is your most beloved club and why?

Mugwump: As a clubber, definitely the Boccaccio in Ghent, RoXY in Amsterdam and Café d'Anvers in its heyday. It was wiiiild. As a DJ there's a lot now, but i guess Fabric is the best really.
What do you aim at with the music you release?

Mugwump: Getting my diverse experiences within the Belgian House and Techno club scene translated into some wild and unpredictable music.
You release on many different labels like Kompakt, Cocoon, R & S Records, or Endless Flight – do you send these labels always special music that fits into their roster?

Mugwump: Nope, we do stuff without any label in mind, we're just jamming and so far i always sent our music to labels where i tought it was fitting or to labels that requested our music. It goes both ways. And we now mainly focus on Kompakt.
How many people are currently involved in Mugwump?
Mugwump: I started the project at the end of 2005 with Jean Vanesse from Spirit Catcher and his partner Thomas Sohet was doing all the keyboards. We have done two singles and loads of remixes together. And I did a tiny few jams with their friend Compuphonic. Then Spirit Catcher decided to fully quit in order to work on their debut LP for 2020 Vision. So now Mugwump is totally freezed as a duo. It's Olivier Gregoire aka Kolombo and myself.
How did you select the tracks for your Carhartt Radio show?
Mugwump: We did the mix together back in May and used all our current and upcoming stuff to get a really special and exclusive show for Carhartt. Since then, some of the trax or remixes are released so the talk-over comments might be a bit less timely but the music is really fresh tho!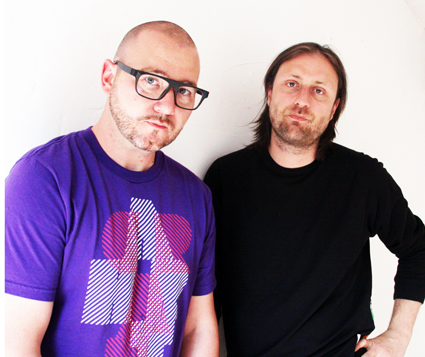 If you could take a year off work, how would you spend it?
Mugwump: Spend more time in the studio!
What do you do to keep yourself from loosing it every now and then?

Mugwump: I make music with Kolombo as much as possible.
What are your current Top 10?
01. Midland: Play the Game Dexter mix/Leitmotif
02. James Chance & The Contortions: Incorrigible Liv Spencer/Spun rmx
03. Superpitcher: Rabbits It's a Fine Line rmx
04. Von Spar: Troops
05. Silvervince: Mademoiselle B Chloé rmx
06. Monobloc: Dirty Ivan Smagghe ISE8 rmx
07. DC Salas: Peru orig/ Mugwump rmx
08. Gadi Mizrahi & Soul Clap: Beautiful Thang
09. Mutant Clan: Plan A
10. Mugwump: Raping the world we left behind/E40 blues
You live in Brussels: can you tell us some nice spots and secrets about your town that you can't find in any travel guide?
Mugwump: On the food tip, my fave spots are definitely Vismet (amazingly creative fish food, located downtown), Yamayu (not the best service if you are not a regular, but the most addictive Japanese restaurant i know) and Si Bemol (the best night restaurant in Brussels), while on the bar tip, maybe check Fontainas, Le Chaff, Madame Moustache, or Café Central. And for something a bit rougher around the edges, go to London Calling or Dali's. And make sure you're not forgetting Doctor Vinyl, one of the best recordshops in Europe, no less!
And at least: what records from the past coined your live?
Mugwump: Tough…. Boys Town Gang: Can't take my eyes off you, Yello: Bostich, Foreigner: I've been waiting, Howard Jones: What is Love, ELO: Twilight, Joe Jackson: Steppin Out, Hall & Oates: Out of Touch, Talk Talk: Life what's you make it, Bashung: Gaby, Etienne Daho: Pop Satori, Sheila: Spacer, Lizzy Mercier Descloux: Où sont passées les gazelles?, Rita Mitsouko/Sparks: Singin in the Shower tonight, Les Negresses Vertes: Zobi la mouche, DAF: Brothers, Public Enemy: It takes a nation of millions to hold us back, NWA: Straight outta Compton, Red Hot Chili Peppers: Mother's Milk, Nitzer Ebb: That Total Age, Jaco Pastorius: Jaco, Deus: A bar under the sea, Pink Floyd: Ummagumma, The Jimi Hendrix Experience: Are You Experienced?, Dennis Edwards: Don't look any further, William Pitt: City Lights, Kid Creole and the Coconuts: Stool Pigeon, Primal Scream: Higher than the sun, Charlatans: The only one i know, Stone Roses: I wanna be adored, Sly & Lovechild: The world according to…, St Etienne: Only love will break your heart, Black Dog: Bytes), Yusef Lateef: Love Theme from Spartacus, Neil Howard: Indulge, Eddie Fowlkes/Juan Atkins: Techno por favor, Open House: Aquatic, Innerzone Orchestra: Bug in the bassbin, Underworld: Mmm skyscraper, In Sync: Storm, Boytronic: Bryllyant, P. Rutherford: Get real, Acts of Madmen: The Dream, Lee Marrow: Lot to learn. Phew! Ahh – and everything from The Smiths !!!