Europe: Dudley Perkins fonks around
Date published

26.04.2010
For a long time the Dudley/Madlib combination was one of the most illustrious collaboration projects in Madlibs catalog and made both famous in the global Hip Hop movement.
Beside two Stones Throw longplayers Dudley Perkins always continued to work with other peers under his moniker Declaime, as well as many collaborations with his girl Georgia Anne Muldrow.
Since some time he and Georgia run the label SomeOthaShip Connect and both released their latest solo works on this funk infected platform.
Now the couple flys over to the old continent in order to present their latest artistic output with some handpicked concerts. Before jumping into the plane Dudley Perkins was so kind to mix us the May edition of Carhartt Radio.
To make your mouth water here a little interview with him telling secrets about the spirit of his upcoming tour, his label, and the next Carhartt Radio edition.
You recently released your third solo album Holy Smokes. This sounds like your are enlightened by some extraterrestrial power. True? And if: how does this power work?
Dudley Perkins: No, im not enlightened. I just have some light. A lil light. There is to much going on where i'm off balanced. I just speak about the off balances i see that i'm also seeing in the rest of the world. I'm in the state of a lot of emotions. I'm not mediating everyday doing some Ghandi, Bhagwan Shree Rajnneesh type ish. They were enlightened. If a man says he's enlightening he probably aint and just trying to get attention. The people will name u enlightened if you truly are.
The little Europe tour called Fonk – can you tell us the meaning behind the word? Because it sounds like it is more then just funk?!?!
Dudley Perkins: It means 'to respect'. It's an ancient Wolof word. It's also the title of my new album dropping May 4th on our label – SomeOthaShip Connect.
For your album and the tour you collaborate with Georgia Anne Muldrow (picture below). What is the special spirit between you both?
Dudley Perkins: That's my queen and i'm here king. We treat each other as such always. It ain't no act. When you see us that's how we really are. I have a lot of respect for her and I have a lot of respect for women in general. I'm a mamas boy. When i'm around other people i can get kinda harsh or leave that impression, but Georgia is my queen. We just had our first son Nokware together. He's a year and 7 months old now.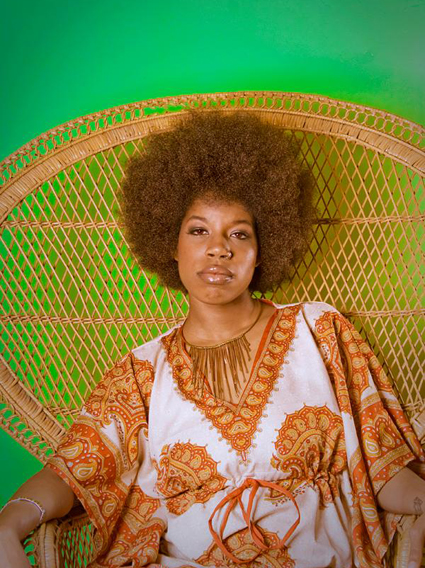 For all fans of the first hour: will you play some old stuff on stage too?
Dudley Perkins: Oh yeah. You'll get a bit of everything. But we got some new music to show ya'll that were really excited about. New music from our newly formed label – SomeOthaShip Connect.
If we would write a forecast about a concert of yours what should be writen in it? What makes it special?
Dudley Perkins: It's pure spirit. U know. There is no acting involved. It's not overly rehearsed. It's family orientated. It's heavy with FONK! We speak the truth at our shows.
How you see the future of Hip Hop music?
Dudley Perkins: I see it becoming a tool to expose and remove all bullshit on earth. It's going to be a tool if i have anything to do with it. It'll wake people up to all the ills going on in the world today. The plan of SomeOthaShip Connect is to drown out all the unhealthy music so we can help raise the vibration of the planet to where all the snakes can't stand it!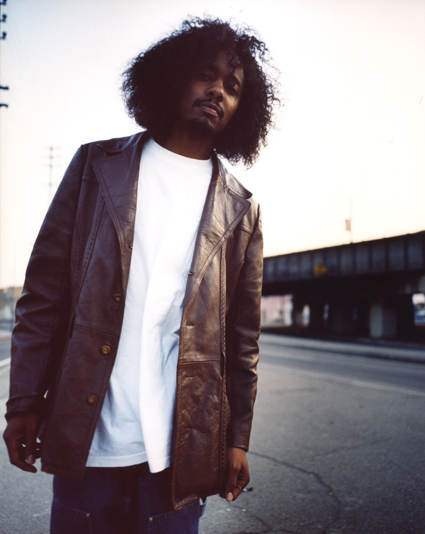 (photo: João Canziani)
What a the biggest inspirations on your work right now? And why?
Dudley Perkins: That one day the message will get there. The message SomeOthaShip Connect stands for that i mentioned with the last question. Some people don't have the tools or the access to really find out whats happening behind closed doors, but we hope we can help expose and wake people up to those things. The state of the planet right now is my main inspiration. I feel the planet crying right now.
How did you select the tracks for your Carhartt Radio show?
Dudley Perkins: It's a selection of tracks from recent and upcoming releases from our label SomeOthaShip. It's got tracks from our artists on the ship – Darryl Moore, Quazedelic, Rickie BB and more… We've got a gang of records coming up. My FONK album drops May 4th, Darryl Moore's album Where Im At drops May 4th. Georgia's free jazz instrumental album under the alias Jyoti called Ocotea drops June 15th.
What do you do to keep yourself from loosing it every now and then?
Dudley Perkins: I just move forward. I innovate, create at a fast rate so I don't have time to worry about my mindstate drifting cause it's always on focus. Especially with running this label now – i stay focused.
Tourdates:
04/30/2010 – La Bellevilloise – Paris – FR
05/01/2010 – Vina Rock Festival – Madrid – ES
05/05/2010 – Stecken – Cologne – DE
06/05/2010 – Rotown – Rotterdam – NL