Interview: Rebolledo
Date published

23.11.2009
To give a little inside into the world of Rebolledo we catched up with him and did an interview for the current Rugged magazine issue.
To accompany the Cómeme Carhart Radio show, we now present the full version of the real nice chat with this sincere fellow from Mexiko.
What's the source of life for you?
Rebolledo: Life itself. I'm very curious about tomorrow. So in order to get there, I live my life enjoying every day. Most of all, enjoying simple things and laughing as much as possible.
How old are you?
Rebolledo: I'm 31.
We read that you and some friends run a club in the Mexican city Monterrey. What is your door policy?
Rebolledo: We don't really have a door policy. Everybody is welcome, because one thing is sure: if they arrive at the door, it means they heard about the place from the right people, because we don't advertise, and we don't have any sign in the street either.
If you listen to the international press, you get the impression that Mexico is a country ruled by drug wars. Is it really like that?
Rebolledo: Well the situation is pretty tough right now, but it's not like you can't leave your house or anything. I mean, it also depends on which city you live in. But if you're not involved in any tricky business, you don't have to worry. And concerning our little club called Topazdeluxe: It's too small to worry about. The Mafia is always present in bigger places where the real money is. We are pretty much under the radar.
What's your occupation beside DJing and running a club?
Rebolledo: I don't really run the club, my partners do. I'm in charge of the design and the music. But right now, I'm involved in my music projects full-time.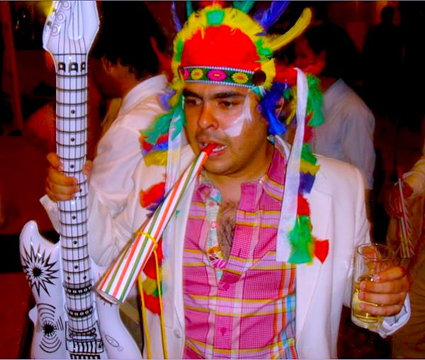 Your music on Cómeme records caused some surprises in the dance music scene. Do you have any musical paragons?
Rebolledo: Hard to say, I'm not going to name producers, artists, or tracks. But I can give you the key pieces of what's perfect for me: The power of The Warriors movie theme, the beat of Billie Jean, the drive of the bass synth in Giorgio Moroder's The Chase, the bass of Thriller's breakdown, the snare drum of the typical Mexican army march. I could make a loop of any of these and dance forever.
How did you develop your musical background in Mexico? Through record shops, the radio, the Internet, or books?
Rebolledo: Going through records has always been the best thing for me, most of the times by spending hours in record shops, or sometimes in even weirder ways, like this time about eight years ago when some guy was going to throw like 2000 records out to the trash. I took them home before that happened. It was a real eclectic collection, from Mexican folklore to Pink Floyd, from Classical to Giorgio Moroder and Patrick Cowley, from rock of the 60s to Vangelis. I had a blast listening to most of this music and started using it in different ways. It gave me another perspective of what a DJ could be or do.
And what are the main influences for your music?
Rebolledo: Thinking about how I'd like to dance on the dancefloor and what I'd like to experience being there. A lot of memories from my childhood are very important for my creativity also. I always had crazy ideas when I was a kid. My music also reflects that, I think. Anything that has to do with action is also a great influence for me. Motorcycles, cars, action movies – I always think more about sensations instead of sounds.
How did you get involved into the whole BumBumBox story?
Rebolledo: I first met Matias Aguayo in Playa del Carmen a couple of years ago, when he came to play at the club where I was a resident at that time. He talked to me about this new thing he was doing with his friends in Buenos Aires. I loved the idea. Then the friendship continued, we always kept in touch, and he kept on coming back every now and then to play, and at some point he asked me to do a set for BumBumBox. I was thrilled, because I knew that he didn't ask just anyone to do this. Is not about how well known the guest DJ is in the music world, but about taste and groove, so I was very honoured.
Did you ever go to a BumBumBox party outside of Mexico?
Rebolledo: The distance between Mexico and South America is much bigger than most people think. So, I could never make it to those parties in Buenos Aires, Chile, or Brazil. But I have a pretty good idea of how they are because of last month, when I had the chance to travel with all the BumBumBox crew during the Cómeme Europe tour. There were a lot of BumBumBox style moments, like spontaneously dancing with the other passengers in the train on the way to Hamburg. Or a little party in Bar Ornella in Cologne were we danced for hours just listening to recorded sets, having only three boom boxes as a sound system. I tell you, it's a lot of fun.
And what's your part in the Cómeme story? Are you just an artist, or is there more to it?
Rebolledo: I mean, I don't have any official title or something like that, but I wouldn't say I'm just another guy releasing on the label. We are always talking about new ideas, thinking about the label together. In the end, Matias and Gary Pimiento have the final word when it comes to making decisions, but I'm always aware of what's happening, and they're always aware about what I have to say and always take my opinion and ideas into consideration.
Do you have a political message? I think you do because of some scenes in the video for Pitaya Frenesi. For instance there's the fence, the security people, and then the pirate flag towards the end.
Rebolledo: Not really. In the video we just wanted to get a chaotic feeling across, something like the music itself by showing contrasting images like the beauty of the Mexican Caribbean and the prohibition things, soldiers, pirate flags, clouded sky and Aguayo's dripping ice cream.
Your sound as a producer and DJ is eclectic. How would you describe it in your own words?
Rebolledo: Hard to say. I think it's all about reaching the final purpose, which for me is dancing with the eyes and fists closed, and never to look back. I don't know if that makes any sense, but that's how I feel it.
Does cinema have an impact on your work?
Rebolledo: Definitely! I like to imagine my music as part of a soundtrack. A lot of my work originally starts as an image in my mind. Thinking about car chases, street characters, glorious moments. Another impact is that my dad always loved to travel long distances by car, and ever since I was a kid I loved the feeling of listening to music on the highway. His selection was very particular, very varied in sound, but very similar in feeling. Now, a lot of my sound, I think, is related to that highway feeling. Another big influence for me is my brother's love for speed and danger. He used to race motocross bikes, and now, since he's not so young anymore and after some injuries, he races cars. To be a motor racer is one of my unfulfilled dreams! One day maybe… No, not maybe. One day for sure!
And how do you produce? With instruments? MPC? Computer? Drums?
Rebolledo: I assemble everything in the computer, but try not to depend so much on it. I try to use real instruments, my voice, or hardware. I suck when it comes to computers. Too complicated for me. When I do tracks with my friend Daniel Maloso, we usually include guitars and more analogue synths.
What will we hear next from you? A Cómeme release?
Rebolledo: Yes, well, actually is already out, the Cómeme 004. It's an EP with four tracks from me. Two of them are with Daniel Maloso, two of them are solo. I'm also going to do some tracks on the next multi artist releases from Cómeme. And after that I will do another four-track EP with Daniel Maloso.
What we can expect of your project Pachanga Boys together with Superpitcher? You've recently been to Cologne for a while. Did you get the chance to produce new tracks with him? And how did the project come about in the first place?
Rebolledo: Actually, we are working on new material right now. This time, it's going to be more dancefloor oriented. We are very happy with what we're doing and we enjoy working together very much. It's always fun. The project developed very spontaneously. During my last visit to Cologne last March, he asked me to record some vocals for one of his tracks. When we were done recording, he tested a few new instruments and sounds and this little melody came out. We loved it. Then I just started singing in Spanish. We both liked the sound of it, then we decided to make the track and just like that the Pachanga Boys were born. Making this first track was such fun and we were so satisfied with the result that we decided that every time we had the chance we are going to do new stuff.
You've recently played at places all across Europe. How did you like it?
Rebolledo: I loved it.
What was your best DJ night in Europe?
Rebolledo: It's hard to say because all of them have been so different and so special. I really liked the one you mentioned. I love small places. Also, the Cómeme night at the C/O Pop festival was very special, because it was the first time that I played with the rest of the Cómeme crew besides Matias (Diegors, DJs Pareja, Capracara, Christian S., Korkut Elbay). Last March's Total Confusion was great too. A whole different story. Big place, bigger crowd.
A question concerns the work of your mate Matias Aguayo. What do you think about his forthcoming album Ay Ay Ay? Honestly!
Rebolledo: I honestly love it. Shortly after I met Matias, he started showing me what he was working on, and some of that is in the album. He showed me how he was working at that time, the new techniques he was developing, and his new ideas. The more I got to know him, the more I knew about his inspiration and influences. Every time we spent time together, it was always fun to listen to what he was listening to. Sometimes on Youtube, sometimes the CDs he bought in the countries he had visited. So now that I listen to Ay Ay Ay it makes perfect sense with all that I've experienced with him. It's clear for me that it's a very honest piece of work. It sounds just like him and it doesn't pretend to follow any trends.
Rebolledo Discography
Rebolledo BumBumBox mixes