Carhartt X 5boro NYC!
This collaboration has materialized from the experiences of a tour between two crews, two cities and two brands with a like-minded skate ethic of exploring and skating everything along the way.
The 5BORO NYC and Carhartt W.I.P. crew skated and documented their way from the founding city of 5boro, "The Big Apple" to the founding city of Carhartt, "Motor City". Carhartt's Pontus Alv and 5boro's Mark Nardelli worked together laying out Pontus' sketches and photos to create the collection, officializing this collaboration with a distinct Carhartt-colored, co-branded labeling system.
THE CREW
Carhartt riders present on this trip were Hjalte Halberg, Phil Zwijsen, Rob Smith, Pontus Alv and Bram De Cleen. The 5boro guys that joined us were Jimmy McDonald, Dan Pensyl, Willy Akers, Luidgi Gaydu, Mark Nardelli and Tombo Colabraro. Taking care of photos and video footage were Bertrand Trichet and Chris Mulhern, respectively.
DIFFERENT BUT THE SAME
Carhartt loves skateboarding and so does 5boro. Sure Carhartt W.I.P. is primarily a European thing - and 5boro owns a big part of its existence to the New York City roots it so greatly takes pride in - but the truth is that this geographical and cultural difference is quite easily overshadowed by what
both do have in common: A genuine love for skateboarding, and a certain way to go about it. Both Carhartt and 5boro embrace all aspects of skateboarding, with teams consisting of a wide variety of skaters, on the board and off. When 5boro offered Carhartt team member Pontus Alv a guest
board the ball started rolling and a while later flights were already being booked. Once everybody got in the van together it was only a matter of time for things to fall into place, by the time we left for Detroit both crews had pretty much blended together. After coming back to NYC, Pontus and 5boro's art director Mark Nardelli got together and sealed the deal on our newfound alliance by designing these Carhartt X 5boro items.
HARDGOODS
PONTUS ALV GUEST BOARDS 
- "MINI TAXI" 7.5" X 30.5"
- "NEW YORK CITY" 8.6" X 31.5"
- "NEW YORK CITY" 8.0" X 31.5" (available in U.S.A only)
- "DETROIT" 8.125" X 31.5"
Deck Materials : Canadian Maple, Mfg. in U.S.A.
Each board comes shrink wrapped with a newspaper containing photos and editorial from the New
York City to Detroit trip.

CARHARTT X 5BORO WHEELS 
53mm 101a high quality urethane

CARHARTT X 5BORO NYC DIGGER COAT
Each digger jacket comes shrink wrapped with a newspaper containing photos and editorial from the New
York City to Detroit trip.
Material : 100% "Columbia" Ripstop Cotton, 6.5" oz. with Square Carhartt Label & 5BORO NYC label
in special Carhartt colorway. Pontus Alv road-trip drawings & collaboration graphic inside print.
Color : Black Stone Wash

CARHARTT X 5BORO NYC S/S POCKET T-SHIRT
Description : Square Carhartt Label & 5BORO NYC label in special Carhartt colorway on pocket.
Pontus Alv "Zoning Around" back print.
Material : 100% Cotton Single Jersey, 185g/m
Color : Black
NYC TO DETROIT NEWSPAPER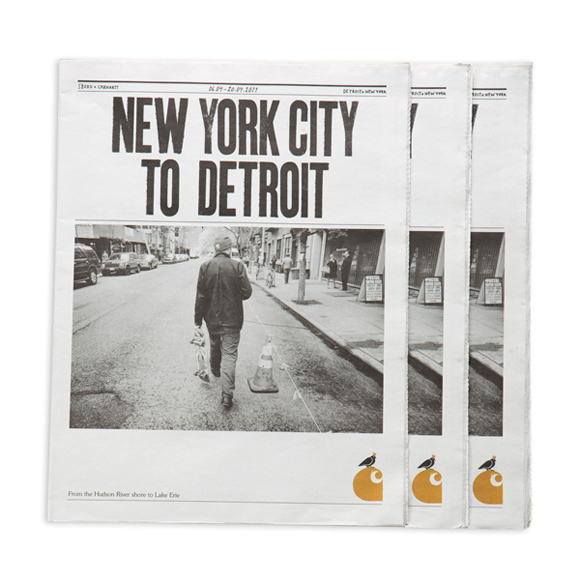 Stay tuned! The video is coming soon!